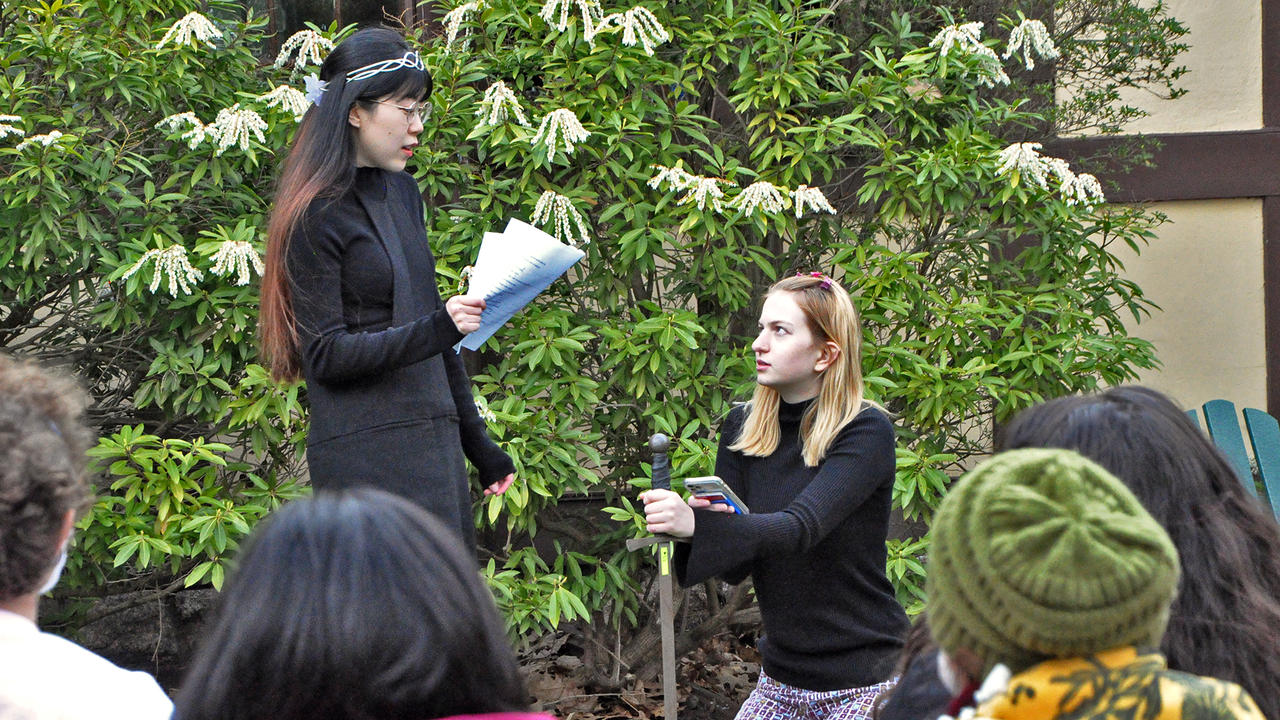 By Any Other Name: Shakespeare in Translation
On the lawn outside the Shakespeare Society's house on a sunny Friday afternoon, a group of Wellesley faculty and students gathered to celebrate the famous bard. Familiar scenes and sonnets were on the program, but they didn't sound quite like traditional Shakespeare. Actors performed parts of The Tempest in Arabic and Tamazight and Sonnet 18 in Korean. Hamlet was presented in Spanish and German, and A Midsummer Night's Dream in Mandarin. This was "Shakespeare in Translation."
The annual event was born from a conversation between Rachid Idir Aadnani, senior lecturer in Middle Eastern studies and director for Arabic and Middle Eastern studies, and Naomi Whitney-Hirschmann '19, when she was a sophomore. An international relations–history major and a Middle Eastern studies minor, as well as a member of the Shakespeare Society (known as Shakes), she grew up in Minneapolis speaking English and German. At Wellesley, she began to study Arabic, which is how she met Aadnani. 
Whitney-Hirschmann and Aadnani batted around the idea of featuring Shakespeare in various languages for several years, until finally, in the spring of her senior year, Whitney-Hirschmann organized the first "Shakespeare in Translation" event, held at the Shakespeare Society House and sponsored by the Jay R. Schochet Cultural Events Series.  With the help of Joy McWilliams '20, then the vice president of Shakes, Whitney-Hirschmann and the Shakes planning committee sought members of the Wellesley community who were interested in translating, performing, or directing a scene.
We are celebrating diversity of faculty and students and not letting ourselves be limited by the traditional Shakespeare forms.

Tina (Jiayi) Zhao '22
"There is so much potential for discussion and collaboration when you look at translating Shakespeare," said Whitney-Hirschmann, who continued studying Arabic in Amman, Jordan, through a year-long fellowship from the Center for Arabic Study Abroad (CASA), after graduating from Wellesley. Now, Whitney-Hirschmann is keeping up with her German while living in Berlin. "You're bringing together people from different parts of campus, breaking down the walls of the societies, bringing people into discourse." A performance of Othello in Arabic, for example, raised the question of what it means for a Moorish character to speak in his native tongue. McWilliams, who speaks Mandarin at home, translated a scene from King Lear with the help of her mom, which brought up personal questions about legacy and inheritance of language. "The event poses the questions," said Whitney-Hirschmann, "and the answers come from people who participate."
The 2019 event featured 14 performances and over a dozen languages. In 2020 the event was canceled due to the pandemic, and in 2021 it was held virtually. But this spring, on April 29, "Shakespeare in Translation" was back in person, and the mood on the Shakes lawn was joyful and enthusiastic. This year's lineup featured 11 performances and 11 languages: Mandarin, French, German, Modern Hebrew, Korean, Portuguese, Czech, Dutch, Spanish, Tamazight, and even the language of music. 
Tina (Jiayi) Zhao '22, coordinator of the event, was thrilled that the performances could be held in person again. Zhao speaks Chinese, English, and French, and she performed in 2019 as a first-year. "It was my first time acting in a language that wasn't English!" she said. This spring, Zhao was part of a scene from a French musical adaptation of Romeo and Juliet, performed in both French and Mandarin. "The language differences serve as a metaphor for the two houses in Verona and the barrier between the lovers," explained Zhao.
Aadnani is proud of the way "Shakespeare in Translation" showcases Wellesley's expansive language program, which offers classes in 15 languages: Arabic, Chinese, French, German, Greek, Hebrew, Hindi-Urdu, Italian, Japanese, Korean, Latin, Portuguese, Russian, Spanish, and Swahili. (Hebrew and Swahili were not offered in 2021–2022.) "Wellesley has already made the investment into all the languages we teach here," said Aadnani, "and I wanted to see Wellesley promote itself more as a place for language."
In addition to boosting the visibility of the language programs, this year's planning committee wanted to ensure "Shakespeare in Translation" would be accessible to all members of the community, so they held the event on the front lawn, right in the center of campus, facing outward. "We are celebrating diversity of faculty and students," said Zhao, "and not letting ourselves be limited by the traditional Shakespeare forms."
"In the Shakes constitution we say that we want to study Shakespeare through a modern, diverse lens," said Whitney-Hirschmann. "We want to make Shakespeare accessible, and 'Shakespeare in Translation' is one small part of how we can do that."