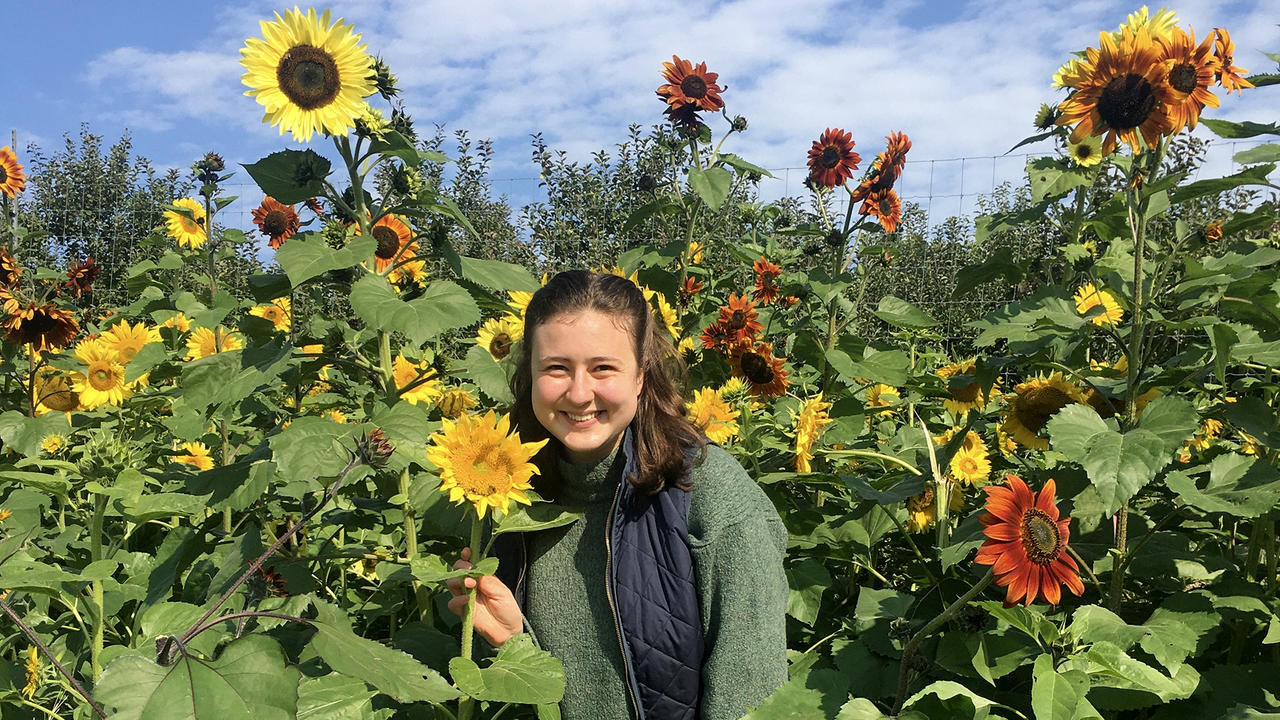 Senior Snapshot, Dominique Mickiewicz '22: "Allez… explorez!"
Dominique Mickiewicz '22 came to Wellesley thinking she was going to study international relations, and she surprised herself by sticking with it: "I normally changed my mind a lot. I was really ready to explore, but the major was a good fit."
But she did explore when it came to every other aspect of her Wellesley experience. Mickiewicz, an international relations-history and French double major from Northern Virginia, has taken advantage of the range of offerings at the College, both inside and outside the classroom.
Mickiewicz, whose mom is French-Canadian, grew up speaking French, and she found a home in the French department immediately. "I took a class my first semester to keep my skills up, because I knew I wanted to study abroad," Mickiewicz said. "But the professors were just so enthusiastic and showed their belief in me." Mickiewicz decided to double major, and she met some of her closest friends at Wellesley through the French department. When COVID derailed her plans to study abroad her junior year, Mickiewicz took the chance to live in Wellesley's French House, which she loved. The department also helped to prepare and encourage her to pursue a master's in international relations at the Sciences Po Paris School of International Affairs, which she will begin this fall after moving to France in August.
Using culture to connect diverse communities is something that I hope to carry forward in my career.

Dominique Mickiewicz '22
Mickiewicz also explored the Davis Museum, where as a curatorial research assistant she helped prepare lectures, put together a digital tour of ancient Mediterranean vases, and write object labels. "I had never considered the museum industry as a career before this," she said. Now she is thinking about adding a cultural aspect to her international relations work. "Using culture to connect diverse communities is something that I hope to carry forward in my career," she said.
In addition to learning about the visual arts, Mickiewicz focused on improving her piano skills at Wellesley. She played when she was growing up, but noted that "it feels different when you choose to continue these things for yourself." She would go to the practice rooms at 9 or 10 p.m., using the time as "a way to reset and work creatively." "It has been a special part of my Wellesley experience," Mickiewicz said. "Those smaller things you do just for yourself are just as valid as anything else."
Physical activity has also been a significant part of Mickiewicz's time at Wellesley. She was a competitive figure skater before college, but as Wellesley didn't have a skating team during her first year, she looked for a new winter sport to try. She discovered that even with no experience she could join the Nordic Ski Team, and because the program is fully funded, she didn't have to buy her own equipment or pay for race fees or transportation. "I didn't expect skiing was going to be such a prominent part of my time at Wellesley, but it was really great that there was an opportunity for me to pursue it without as many financial or access barriers," she said. Mickiewicz was the team's race coordinator as a sophomore and a co-captain as a junior and senior (she recently bought skis as a graduation present to herself). And she found a way to keep skating, too: She met other figure skaters from Babson, Olin, and Wellesley and helped form the BOW Figure Skating Club, which practices weekly on the Babson ice rink. 
While Mickiewicz has worked hard in her academic, artistic, and athletic pursuits, she understands the importance of setting aside time for her friends. "At the end of the day, you're not going to remember the night that you spent writing on that paper," she said. "You're going to remember if you said yes to going to McDonald's to pick up fries at 10 p.m. or if you spent an hour having lunch with a friend. Yeah, there is always reading I could do, but I know it'll get done eventually. I'm not going to remember being in my room at 9 p.m. highlighting my notes. I'll remember watching a terrible movie with my friends and laughing about it later. Take the time to slow down a little bit and say yes to the things that we might not always prioritize as Wellesley students. And don't feel guilty about it!"