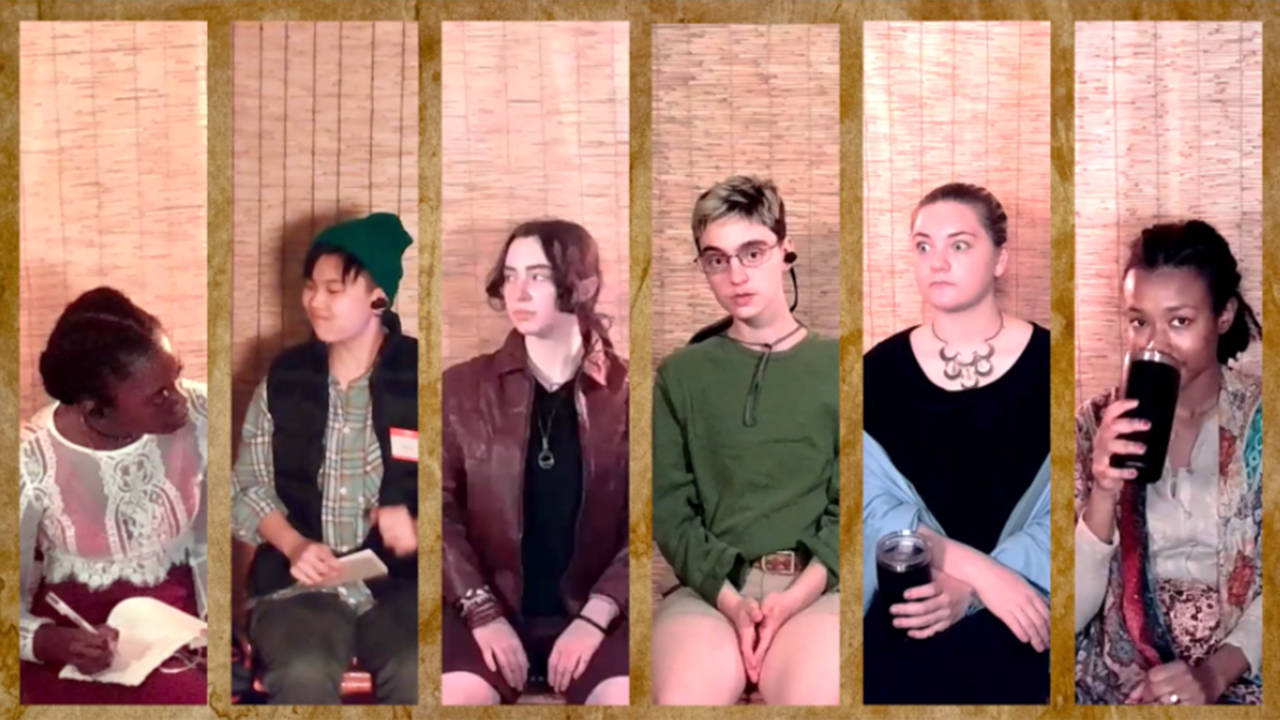 Wellesley Theatre's Performance of Small Mouth Sounds Earns Multiple Awards at 2022 Kennedy Center Festival
In Small Mouth Sounds, a play by Bess Wohl put on virtually by Wellesley College Theatre in spring 2021, six runaways from city life embark on a silent retreat. As the action—which contains almost no dialogue—unfolds over 80 minutes, the motivations that pushed each character to join the retreat are slowly revealed, and the characters' relationships with each other and themselves change in surprising, profound ways. 
In January, the production's cast and crew were chosen from among over 40 participating colleges and universities to present the play at this year's Region 1 Kennedy Center American College Theater Festival, which was held virtually. The annual festival is part of a national theatre program involving 18,000 students from across the country, who attend regional festivals where they share their work and learn from professionals, faculty, and other students. 
The performance then netted Wellesley College Theatre multiple awards at the National Festival at the Kennedy Center in Washington DC, also held virtually including a Citizen Artist Award, which recognizes programs in higher education that promote long-term societal impact through an artistic lens, and an award for special achievement in production and performance ensemble unity. It also made history for the College's theatre program, as it was the first time all members of the production's creative team were students.
"I was so proud to show what our passionate, liberal arts-rooted theatre students of Wellesley College can achieve, and to be recognized on a national level in the great company of much larger programs."

Marta Rainer '98, director of theatre and theatre studies
"I was so proud to show what our passionate, liberal arts-rooted theatre students of Wellesley College can achieve, and to be recognized on a national level in the great company of much larger programs," said Marta Rainer '98, director of theatre and theatre studies. "It shows that the dedication, patience, mutual support and encouragement, and, above all, excitement of a collaborative community can create extraordinary things, no matter the obstacles."
"The play is about people attempting to find unconventional ways to connect with each other," said Ingrid Bell '24, the production's sound designer. "It's such a beautiful testament to the way that great art can lift us up. I've always loved theatre, but it wasn't until Small Mouth Sounds that I truly realized its power to illuminate even our darkest days, to carry us down those paths which feel too difficult to walk, and to bring us together across distances too great to overlap."  
The production was put together virtually as the campus was closed due to the pandemic. To achieve a cohesive, immersive result, the cast and crew employed techniques like stop-motion animated scenery to unify lighting and set design across remote locations. Technical kits and costume pieces were mailed directly to the students, who had to set up movie studios in their own home spaces.
"This particular production involved meeting virtually between two very disparate different time zones, two countries, and three states, shipping set, costume, prop, and lighting materials, or sourcing them from all over the world, turning bedrooms and living spaces into solo production studios, communicating through bluetooth earbuds linked to Zoom while performing, filming for two straight long days in 80-degree heat with the AC off as it interfered with sound, and more," said Rainer. 
"Achieving seamlessness was a big challenge, and figuring out how to make it seem like we put on the play in person when we didn't at all," said lighting director Jay Wiltz '22. "It was an entirely different space to create in. We had ideas of how we could make things happen but weren't completely sure they would work. In theatre there's a lot of adjusting to see what works best for the show, but with things being virtual that sentiment was 10 times bigger." 
Rainer called the awards a wonderful capstone to an enriching, creative, collaborative experience. "This project allowed for a sense of wonder among us, as challenging as it was, and I still feel it when I revisit the production," she said. "Awards don't signify good art, per se, but they do provide an imperative reminder that our live performance art form, in whatever format it is manifested, doesn't get made in a vacuum: It is made to be shared and experienced communally, and our students must prepare themselves for scrutiny as well as delight as a part of our process, and as a part of life."   
In addition to the awards for the production as a whole, individual students were honored for their contributions. Cast members Sarah Wendy Burman '22 and Victor Gao '22 were nominated for the Irene Ryan Performance Scholarship, and set designer Micah Fong '22, stage manager Elisa Bauerdick '21, and assistant director/dramaturg Hannah Nies '21 were recognized for excellence in their fields. 
Though Small Mouth Sounds was the first production Bell and Wiltz had worked on as undergraduates, both moved on, with Theresa Rose '22, to participate in the KCACTF National Festival in April, where Bell was named a finalist for sound design, and Rose for costume design. Wiltz was honored as 2022 recipient of the Barbizon Award for excellence in lighting design.   
"Going to the KCACTF was essentially the first time I've had my work on a production recognized outside of my family, friends, and collaborators, so it was hugely validating to feel like an outside expert appreciated what we had done," said Bell. "I had no expectation of winning anything, since I designed this show as a first-year and had never attended the festival, so winning the regional sound design award was an amazing surprise." 
For both Wiltz and Bell, sharing the production's success as a group was especially gratifying.  
"To be with a team that put their all in every time no matter the circumstances is what made this production possible," said Wiltz. "A lot of people didn't know what was to come of COVID, but it's like we all took a moment to take a step back. People reflected, people took the time to find themselves, took the time to say 'I love you' to the people that mattered most to them. I think Small Mouth Sounds captured that in a special way."
"I was a first-year during the production of the show, and I felt so deeply isolated by the circumstances of the pandemic, so the chance to work on something collaborative and meet older students who were involved in theatre on campus was a breath of fresh air," Bell said. "Campus was closed, but I knew there were people across campus, the country, and the world who were living and breathing this show with me. It's like when you look up at the moon and know that a loved one far away is looking at it too—it's a moment of closeness in a year of distance and isolation that I will always be grateful for."