Wellesley Athletics Hall of Fame Celebrates 2020 and 2022 Honorees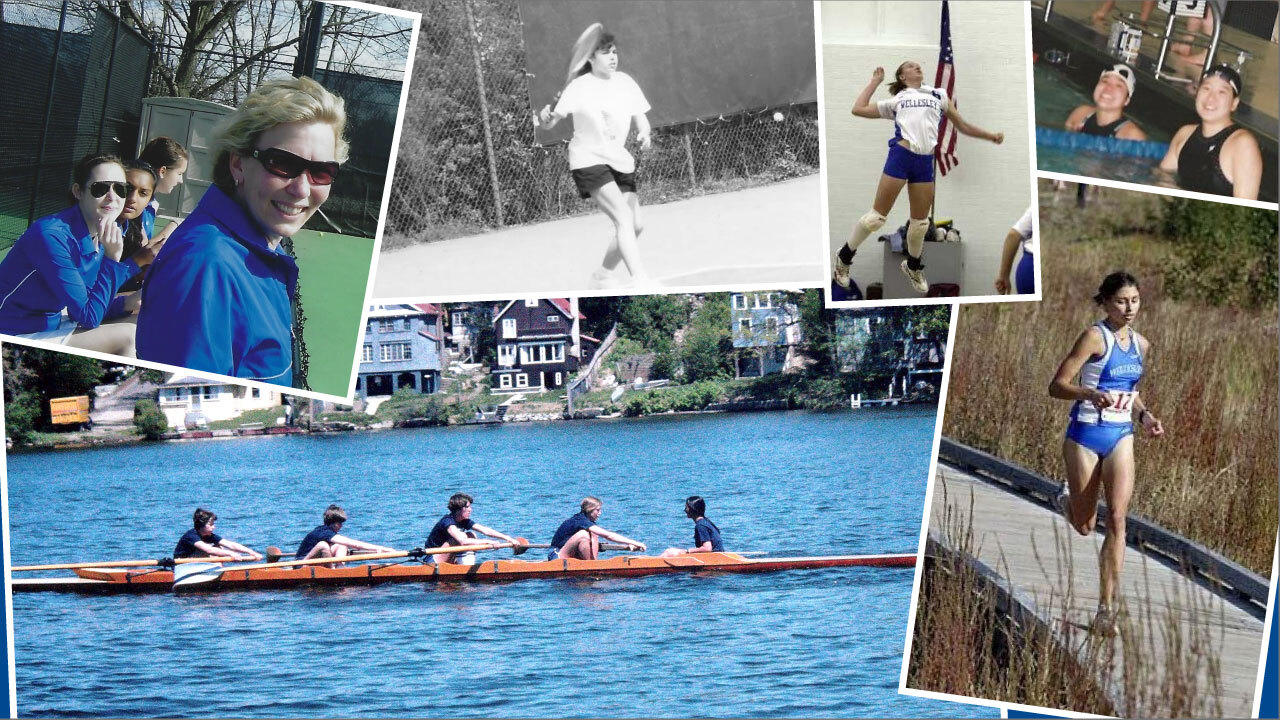 Multiple All-American honorees, holders of numerous Wellesley program records, an Olympic team qualifier, a pair of identical twins, and four "angels" (and their cox)—these are the 11 alumnae and a former coach who will be celebrated at an induction ceremony on October 22 for the Wellesley Athletics Hall of Fame, representing the 2020 and 2022 honorees. Watch a live stream of the ceremony at 6 p.m. ET. Established in 2014, the biennial awards celebrate the spirit and achievements of Wellesley scholar-athletes and those who have inspired and supported them. 
"Wellesley has been represented by student-athletes doing great things for generations, and we hope that our current student-athletes recognize that they are now part of that legacy," says Bethany Ellis, director of athletics. 
Lia Galanis Economou '94 Inducted in 2020 / Tennis
A NEW8 Women's Tennis All-Conference selection in singles and doubles in both 1990 and 1991, Lia Galanis Economou '94 helped the Blue to NEW8 Tournament titles in both 1990 and 1991 and was selected as the NEW8 Women's Tennis Athlete of the Year in 1991. Wellesley posted records of 18-4 and 15-3 during Galanis' first two years with the team, earning a team invite to the NCAA Championship in 1991. Galanis earned an individual selection to NCAAs in 1992 after winning the Rolex Intercollegiate Northeast Division III Championship and ranking as high as No. 5 in doubles and No. 9 in singles. A three-time All-Seven Sisters selection, she helped guide the Blue to the Seven Sisters title in 1992.
Jacqueline "Jack" Woo '96 Inducted in 2020 / Swimming & Diving
The co-recipient of the 1996 Barbara Barnes Hauptfuhrer '49 Scholar-Athlete Award, Jack Woo '96 qualified for the NCAA Swimming & Diving Championships in the 100 and 200 Back during both the 1994–95 and 1995–96 seasons. Woo earned NCAA All-American honors in the 100 Back as a senior at the 1996 NCAA Championships before going on to represent Hong Kong at in the 1996 EPSON Swimming World Cup, later adding Hong Kong Olympic team qualifier to career honors that also included four consecutive Seven Sisters All-Tournament Team appearances, All-New England honors, and numerous Wellesley program records.
Christine Gray Inducted in 2020 / Tennis Coach
Christine Gray guided the Blue tennis program to five NCAA Tournament appearances during her tenure as head coach from 2001– 08, winning four consecutive NEWMAC Tournament Championships from 2004–07 and Seven Sisters titles in 2002 and from 2006–08. Wellesley was dominant with Gray at the helm of the program, posting three 20-plus win seasons as Gray earned NEWMAC Coach of the Year honors in each season from 2004–07. Gray was named the 2006 USTA New England College Coach of the Year, 2006 ITA Northeast Region Coach of the Year, and was a finalist for ITA D3 National Coach of the Year in 2006. The Blue boasted over 40 NEWMAC All-Conference selections, and Jenna Mezin '08 and Hali Walther '08 each earned All-American honors under Gray's guidance.
1977 Lightweight 4+ Inducted in 2020 / Crew
The 1977 Lightweight 4+ crew of Karen Cunningham Van Adzin '79, Kim Cooke Himmelfarb '77, Eleanor Horrigan Spyropoulos '80, Polly Munts Talen '77, and coxswain Elizabeth "Ping" Pingchang Chow '79 is the first group of inductees in the team/relay category in the Wellesley Hall of Fame. The 1977 Lightweight Four captured first place at the Eastern Association of Women's Rowing Colleges Lightweight Sprints, a first in the storied history of Wellesley Crew. "Ping's Angels" went on to the National Women's Rowing Association National Championships, finishing fourth nationally at the open championships that included not only collegiate crew, but competitors from the top club programs in the nation.
Alison Mostue '03 Inducted in 2020 / Volleyball
Alison Mostue '03 was a leader on the Blue volleyball team during one of the most successful stretches in program history, helping the squad to four consecutive NEWMAC titles while garnering national, regional, and conference attention. A two-time AVCA All-American and NEWMAC Player of the Year, Mostue was the 1999 AVCA Freshman of the Year and garnered AVCA and NEWVA Regional accolades during her career. She finished her career with 1,352 career kills and 1,072 digs while helping the Blue to three straight NCAA Regional Championships from 1999–2001, including a Final Four appearance in 2001.
Meg Barao '01 Inducted in 2022 / Basketball
Meg Barao '01 twice earned NEWMAC All-Conference honors (1999–2000 and 2000–01), was named to the ECAC All-Star Third Team in 2000–01, and was a Seven Sisters All-Tournament selection three times, including MVP in both 1999–2000 and 2000–01. Barao was also a New England Women's Basketball Association (NEWBA) Second Team All-Region selection (1999–2000), and Senior game selection (2000–01). Barao played for the Blue with her identical sister, Amy; their 1999–2000 team was the first and only Wellesley team to advance to the NCAA Tournament and the 2000–01 team finished as NEWMAC and Eastern Collegiate Athletic Conference (ECAC) runner-up.
Amy Barao Kullar '01 Inducted in 2022 / Basketball
A 2000–01 Kodak National All-American, Amy Barao '01 ranks third all-time in Wellesley history with 1,246 points, following a career where she twice earned NEWMAC All-Conference honors and was a two-time Seven Sisters All-Tournament selection. Barao was also named a New England Women's Basketball Association (NEWBA) All-Star (2000–01), and Senior game selection (2000–01). Her teams, which included her identical sister, Meg, finished with a four-year record of 67-31, including two 20-win seasons of 22-5 (2000–01) and 21-4 (1999–2000). Barao graduated as Wellesley's all-time leading 3-point shooter and the 2001 Hooprolling winner and played professionally for three years in Denmark.
Tracy Bassett '06 Inducted in 2022 / Cross country
Tracy Bassett '06 was the recipient of the 2006 Barbara Barnes Hauptfuhrer '49 Scholar-Athlete Award. A Division III All-American in 2004, the cross country standout was a two-time NEWMAC Runner of the Year, a four-time NEWMAC All-Conference and All-New England finisher, and a three-time individual NCAA Championship qualifier, earning a trip to the national meet in 2003, 2004, and 2005. She earned Division III Cross Country Coaches Association Academic All-America honors in 2002, 2003, and 2005 and NEWMAC All-Academic honors in 2003 and 2004. On the track, she remains the Wellesley record holder in the indoor 1500m with a time of 4:44.27 set during the 2003–04 season.
Story from the 2022 fall edition of Wellesley magazine