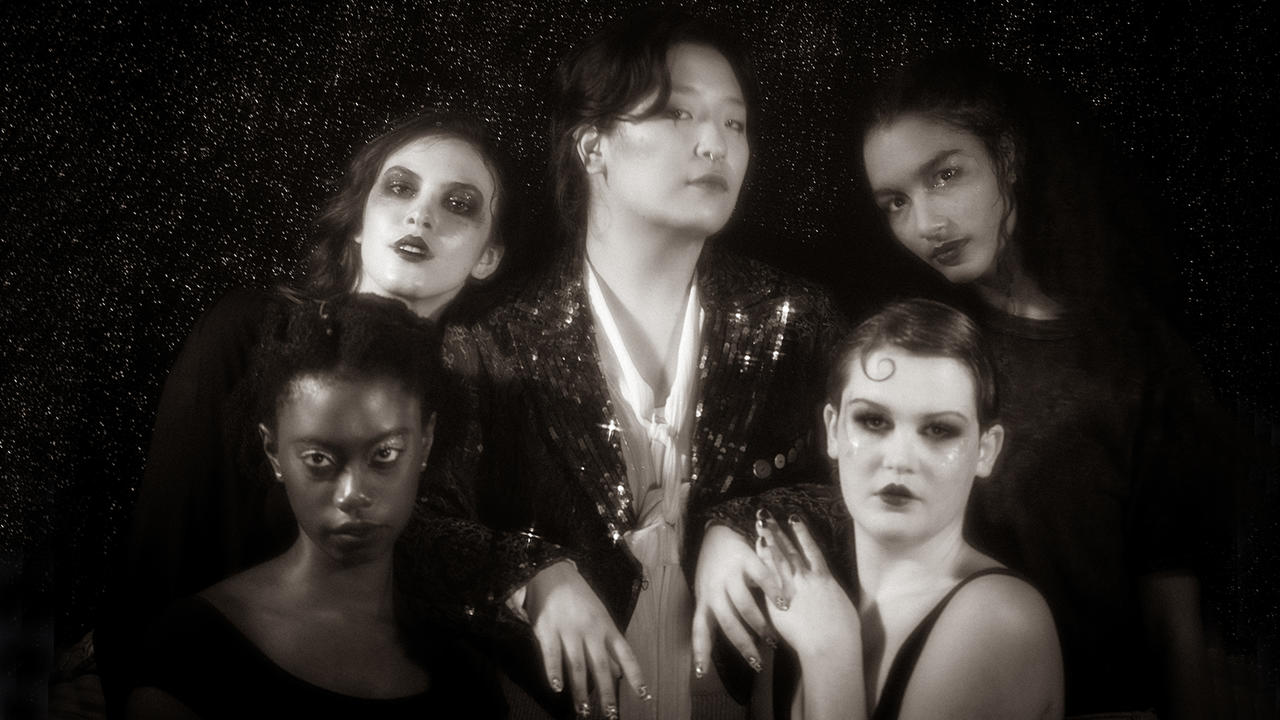 Wellesley Says "Willkommen" to Two Courses on "Cabaret"
This week, Wellesley's Ruth Nagel Jones Theatre has been reshaped into the Kit Kat Club, the alluring and atmospheric setting of the musical Cabaret that operates in a sphere of smoke and conversation. Audience members are invited to sit at tables in the cabaret space, creating an immersive environment that begins before the falsely cheery opening number welcomes them. The hope is that when they enter the theatre to see the show, they feel they are entering the world of Weimar Berlin.
This year marks the 50th anniversary of director and choreographer Bob Fosse's film adaptation of Cabaret. To celebrate the milestone, Octavio González, associate professor of English, and Marta Rainer '98, director of theatre and theatre studies and senior lecturer in the department, collaborated to stage Cabaret at Wellesley. 
The production is the culmination of two courses offered this semester, ENG 283: The History of Cabaret and THST 345: Practicum–Theatre Production, that are based on the incarnations of the story of Cabaret. ENG 283 focuses on the literary and historical aspects of Cabaret's source material, and THST 345 brings the musical version to life on stage. 
Cabaret is based on two sources. The first is Anglo-American writer Christopher Isherwood's 1939 novella Goodbye to Berlin, a fictionalized account of his time in Berlin during the early 1930s. The intricate material inspired English playwright John Van Druten's 1951 play I Am a Camera, the second source.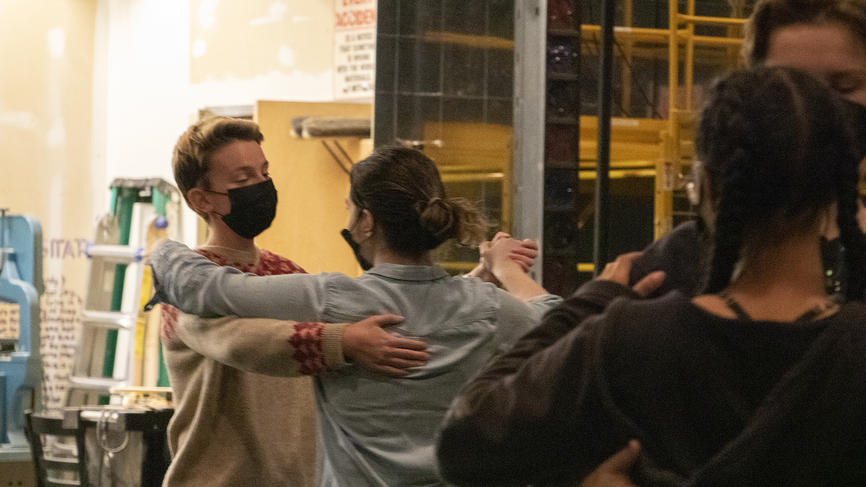 González got the idea for a course on the history of Cabaret in fall 2020. He had taught Isherwood's novella in his course on the modern British novel and showed his students the number "Mein Herr" from the film adaptation. "My mind was on fire contrasting Liza Minelli's star turn as Sally Bowles with Isherwood's inept chanteuse in Goodbye to Berlin," he said. 
While watching the film, González said, he realized how the deep roots of Cabaret grew. "So, I decided to propose a course focused on the intertextual mesh that comprises the Cabaret archive," he said. 
González mentioned his idea to Megan Ruppel '20, who was taking an independent study with him her senior year. She suggested he reach out to Rainer to discuss it further. 
Rainer, who has taught a course on the performance art of cabaret, was enthusiastic about his proposed course, and at his suggestion decided to produce the musical with the students in her theatre production class. "When I select productions, I select through the lens of an educator," she said. "I think about the opportunities that this particular script offers to our performers, and I really honor the students who took this on. It's been an exciting challenge."
This past summer, González and Rainer went to Berlin to prepare for their courses. They met with Brendan Nash, an author and urban historian, who "gives a fantastic tour of Berlin keyed to the events and characters of the Weimar era," González said. "It was Brendan who showed us the Stolpersteine, or 'stumbling stones,' scattered throughout Berlin and all of Europe as concrete markers of the Nazi political party's continent-wide genocide."
Nash joined both classes by Zoom to provide insight into the vibrant neighborhood in the district of Schöneberg, where Isherwood lived. Phil Ordoñez, a multidisciplinary dancer and certified fitness professional, gave a guest lecture to González's English class on the directorial choices Fosse made in his film adaptation to complement his choreography. 
Though the courses are separate, González said they operate on parallel tracks. In both, students learn about the history of the Weimar Republic and the rise of Nazism to contextualize the world of Cabaret. They examine the intertextual connections between the various adaptations and revivals of Isherwood's stories to consider how each one was conceptualized to reflect a distinct cultural moment.
"We use the journalism from and about this era to do our research," Rainer said. "My intention is to try to get everyone on the same page to make sure that we're all telling the same story. I do that by encouraging questions and through advertising collaboration. It's been invaluable to have these parallel conversations with the English class."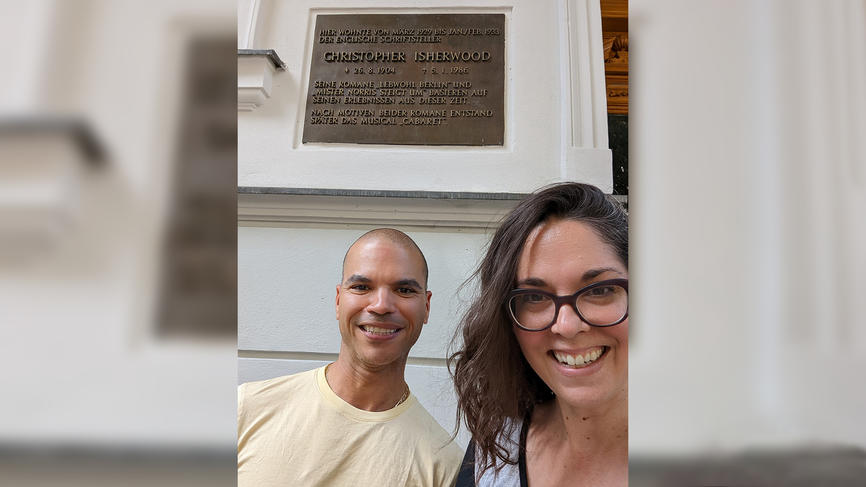 Sophia Nachmanoff '25, assistant director and dramaturg of Wellesley's production, first saw Cabaret when she was very young and fell in love with the score. "When I was a little bit older, I worked as a Sunday school teacher doing Holocaust education. A lot of the work focused on educating people about how fascism rises," Nachmanoff said. "Throughout that process, I found myself rediscovering Cabaret because I think it brilliantly tells the story of how fascism as an institution works." 
She is enrolled in both classes this semester, and her role in the production process involves running lines with performers as well as answering questions about the musical's historical and cultural background. 
Kristal Maimo '26, a student in González's English course, said learning about the nuance and historical significance of Cabaret has been valuable. "I remember watching Cabaret when I was younger and not really knowing what to make of it," she said. "I really enjoy the musical, and I wanted to explore it through an academic lens to understand its purpose."
Though González and Rainer are focused on the history of Cabaret, they also encourage students to recognize the similarities between the past and present.
"The unfortunate parallels to our current political climate make it worthy of bringing the production to campus to have that conversation," Rainer said. 
"Just as Cabaret as a concept musical reflected the civil rights struggles of the 1960s, today's revivals reflect similar political turmoil," González said. "We're facing a storm of neofascist legal and political disenfranchisement, turning back the clock to the pre-Roe v. Wade era." 
As a creative assignment, González asked his students to revise a scene from the stage production and set it in contemporary America post-9/11. Marty Martinage '24 and Phaedra Plank '24 rewrote the song "Two Ladies" and created a satire called "Two Cowboys." Their version traces the shift in the culture of country music and highlights the influence of queer communities and communities of color in country music that have often been erased from popular culture. 
Though the semester is almost over, the conversations and creative projects Isherwood's novella and Cabaret inspire continue outside of the classroom. "There's a vibrancy there because Cabaret was captured in a way that ignites our imagination, in addition to the bigger message about self-reflection," Rainer said. "It's why we're going to be able to keep doing this musical going forward." 
Wellesley's production of Cabaret will take place December 8 to 11; performances are sold out.