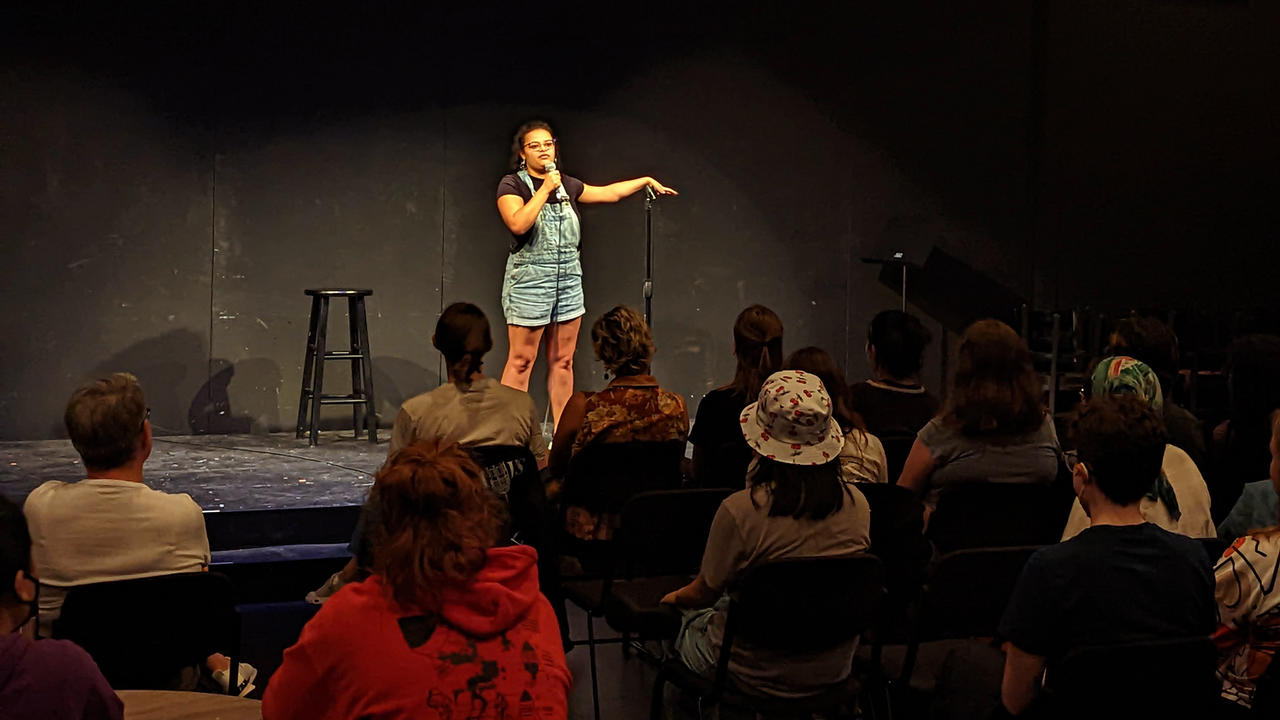 Are You Funny? Take This Theatre Class to Find Out
For students in THST 200: That's What She Said: Trailblazing Women of American Comedy, the midterm exam looks a little different. The objective: Perform a stand-up routine for about 50 of your peers and get as many belly laughs as possible. 
The stand-up midterm, a highly anticipated event at Wellesley, is the brainchild of Marta Rainer '98, director of theatre and theatre studies, who created the course in 2015 and which is offered at least once every year. Throughout the semester, students hone their comedic skills through stand-up, improvisation, solo performance, and writing, and they also do a deep dive into the histories of marginalized comedic voices. 
Rainer says she's always looking for ways to refresh the course and to make it more inclusive. "Every year, I challenge myself to continue to bring new voices in, and to continue to create space for the students to discover all kinds of performers out there that they can be inspired by and learn from," she says.
The course draws a diverse group of students from a range of majors, and the self-designed final project encourages them to connect the material they have encountered in class with other areas of academic interest. Because so much of the curriculum is centered around pushing the limits of students' comfort zones, Rainer describes the final project as a return to the comfort zone that uses the medium of comedy to discover new connections. 
Victoria Percoco '23, who took the course this fall, says her dislike of being the center of attention initially felt like a barrier to taking the class, but she found strength and inspiration in drawing from familiar stories about her family.
"I'm a political science and women's and gender studies double major, so this was absolutely not in the plan," Percoco says. "I do have to do a lot of public speaking in both of those majors, and I thought maybe I will learn how to speak in front of people without quivering." The class helped, she says, but she didn't sign up for it just for the practical skills. "I love watching comedy, and my friends tell me I'm funny, but telling a funny story about my large New York Italian family to friends is not the same as [telling] it to an audience," she says. "But that's what I did. I loved it, and I think the audience did too."
"Improv was a totally different beast. For someone used to a more discussion-based setting, it was odd to get up and move my body.

Victoria Percoco '23
"The stand-up world is a great place to hone your craft," Rainer says. "Bravery, audacity, gaining an audience to your side all to build a dynamic presence in front of a group of people. I felt like there was space in our curriculum to utilize that intention and energy, that command of self, and ownership of voice."
The ownership of voice connects to what Rainer describes as the longevity of comedy. Over the course of the semester, the students learn about trailblazers like writer and filmmaker Nora Ephron '62, vaudeville performer Moms Mabley and comedian Phyllis Diller. 
"It was really interesting to look at the history of comedy, specifically through the lens of women's roles in comedy," says Martha Dameron '23. "In a lot of ways, the comedy that these women were doing was really reflective of both their time and also really kind of groundbreaking. Even if they were joking about the kinds of things we would now consider stereotypical."
Rainer says many students who take the class have been told by friends that they are funny, but they aren't sure how to translate that humor to a performance. Much of the curriculum is designed to help them overcome this obstacle. 
"Comedy is not one-size-fits-all," Rainer says. "Even in the units that we study in the class, we're just looking at all the different ways to utilize the comic sensibility and express ourselves. Are you able to identify a performer's changes in pitch, volume, and pace? How are these techniques effective in creating laughs?"
The technical aspects of the class give students new opportunities for growth.
"Improv was a totally different beast," Percoco says. "For someone used to a more discussion-based setting, it was odd to get up and move my body. We did a couple of improv exercises where we weren't allowed to speak and had to rely only on our physicality, which really pushed us outside our comfort zones. It was moments like this that adjusted the way I think about learning and shifted it to appreciating a more embodied way of learning."
"Everyone's comedy is incredibly unique to them," Dameron says. "Something I kind of struggled with at the start was, I wanted to emulate the styles of my favorite comedians and comedians that I had seen, but I couldn't do it because that is not how I do comedy. That's not how I'm funny. So it was actually like this really cool journey to kind of figure out how I can be funny."