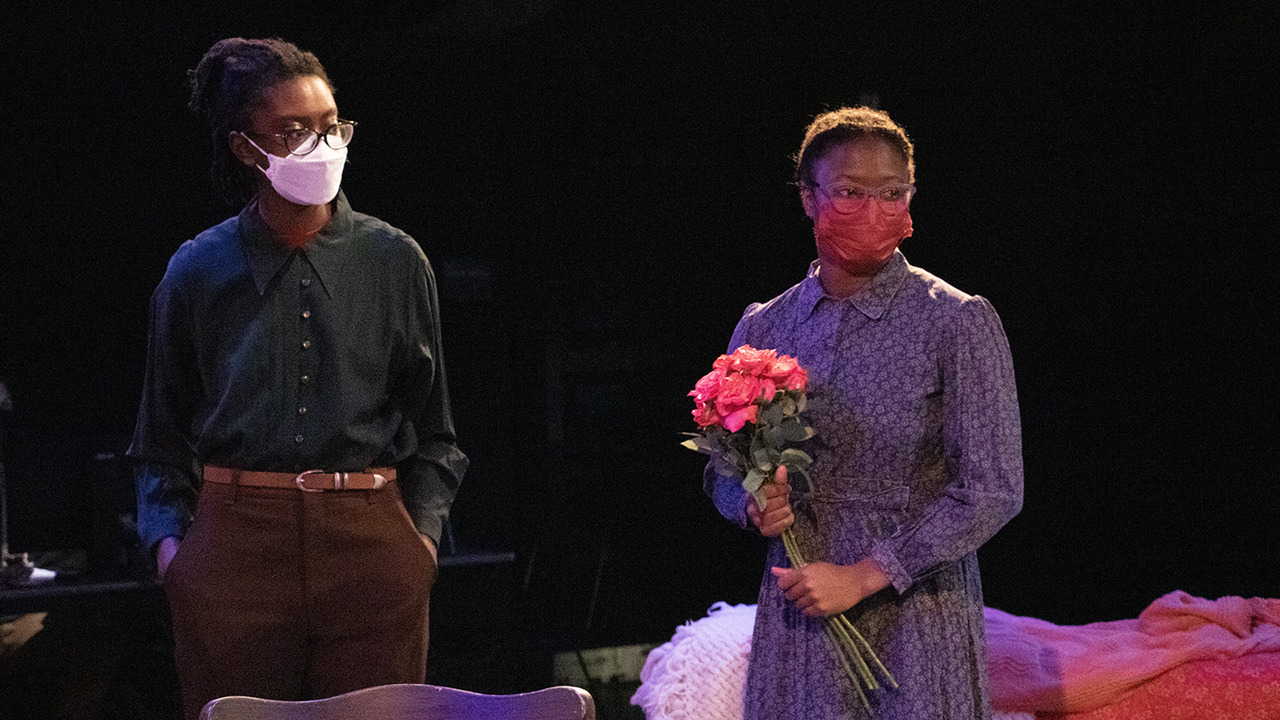 Zaria Bunn '23 Centers Black Voices on Stage
When the application to direct a production for Wellesley College's student-run Upstage Theatre came out last year, Zaria Bunn '23 realized she wanted to direct a play she had read in high school at the suggestion of her theatre director: Pearl Cleage's Flyin' West, the first play she read by a Black female playwright. 
This week, Bunn and her production team have transformed the Ruth Nagel Jones Theatre into a cozy homestead nestled in the all-Black town of Nicodemus, Kansas, the setting of Flyin' West. The stage is set with rustic wooden furniture, quilts that look homemade, and vases of fresh flowers to create a space that feels equally well-kept and well-loved. Audience members surround all four sides of the stage. 
"I wanted the audience to feel like they were the walls of the house and feel involved in what's happening on stage, as opposed to just watching it happen," Bunn says. 
That kind of communal spirit aligns perfectly with the plot of Flyin' West. Set in 1898, the play follows four Black women—sisters Sophie, Fannie, and Minnie and their neighbor Miss Leah—who leave the South during the exodus of 1879 and travel west to carve out new lives for themselves on the Kansas frontier. To them, Nicodemus represents a reprieve from the racist violence they faced in the Jim Crow South and an opportunity to build homes and businesses upon the town's dense sod.
I wanted to bring more people of color into theatre and center their stories and voices on stage.

Zaria Bunn '23
The eldest sister, Sophie, played by Naomi Ogden '24, is a pillar of the community who declares that she's celebrating an end to worrying and instead cherishing the land that belongs to her and her sisters. But with the threat of white speculators looming and the arrival of her youngest sister, Minnie, and Minnie's abusive husband, Frank, her worries are never far. Together, the four women go to great lengths to ensure the sustainability of their family and community.
Bunn originally thought she'd pursue the premed track at Wellesley, but she soon rediscovered her passion for theatre and joined Upstage. "I wanted to bring more people of color into theatre and center their stories and voices on stage," Bunn says. 
Alicia Lee '24, the production manager of Flyin' West, worked with Bunn on Wellesley's production of Sonia Flew last year. After the production wrapped, Bunn asked if she would help her stage a play the following year, and she agreed. 
"Even though I wasn't comfortable with being a production manager for the first time, when I looked at the script, I knew I was willing to learn for this play," Lee says. 
Lee was involved in theatre in high school and middle school and joined Upstage Theatre because she wanted to help cultivate a community where people feel seen. "If I'm being honest, theatre is a really white space, and I think about what I can actively do to counteract that," she says. "Recruiting and casting people for Flyin' West was a process, but I'm glad we were able to do it." 
Kiya Watson '25, who plays Miss Leah, says Flyin' West has been a great experience for her. "Theatre is something I've always wanted to get into on Wellesley's campus, but I didn't really see that many people on stage who looked like me," she says. "Flyin' West gave me the opportunity to be around Black creatives and get more involved." 
Watson also helped her castmate Na'Mia Kelly '26 discover Upstage Theatre. At first, Kelly says, she was hesitant to audition for Flyin' West because she had no prior experience. After Watson messaged her to tell her the play had one remaining role open, she reconsidered. "This gave me some time to read through the script and get a feel for the story and the characters," Kelly says.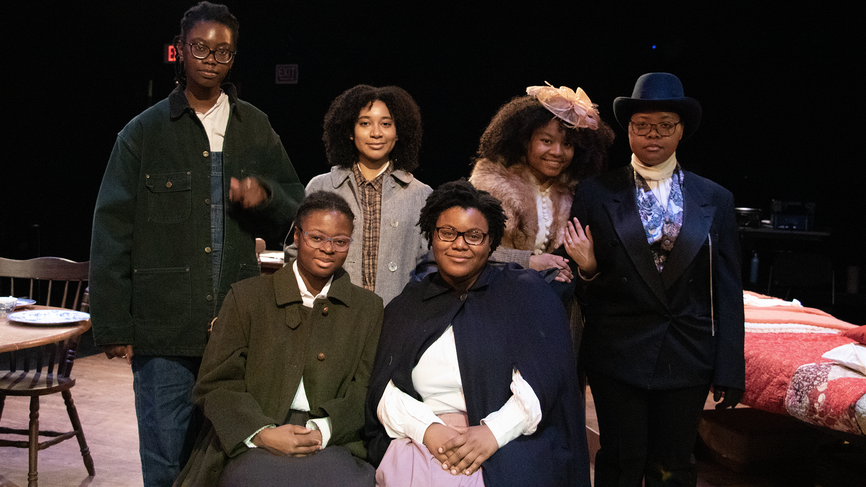 Kelly plays Frank, and she says she has an uneasy relationship with her character. "It took me a long time to get comfortable with this character, especially because of his abuse towards Minnie and his colorist views," she says. "I prepared for this role by acknowledging that I am not my character and not allowing myself to take the things he says with me. I think this separation is very healthy." 
Ultimately, Kelly says, the play's sense of unity and sisterhood resonates most with her. At the heart of Flyin' West is a kinship among four women who support each other and engage in small acts of joy. They laugh together and empower each other to share stories around the kitchen table about their painful pasts. At one point, the three sisters engage in a moonlit ritual, joining hands to declare "our lives to be our own and no one else's." 
"In the author's note, Cleage says that this is just a day in the life of these people," Bunn says. "I think that's what I really enjoy about this story." 
When audiences watch Flyin' West, Bunn says she hopes they think about the play's themes and reflect on them. "What does it mean to be a family? How do you support your friends and family members through difficult times?" Bunn asks. "Everyone can get something out of this show, I think." 
Wellesley's production of Flyin' West will take place from March 16 to 19. To reserve tickets, click here.