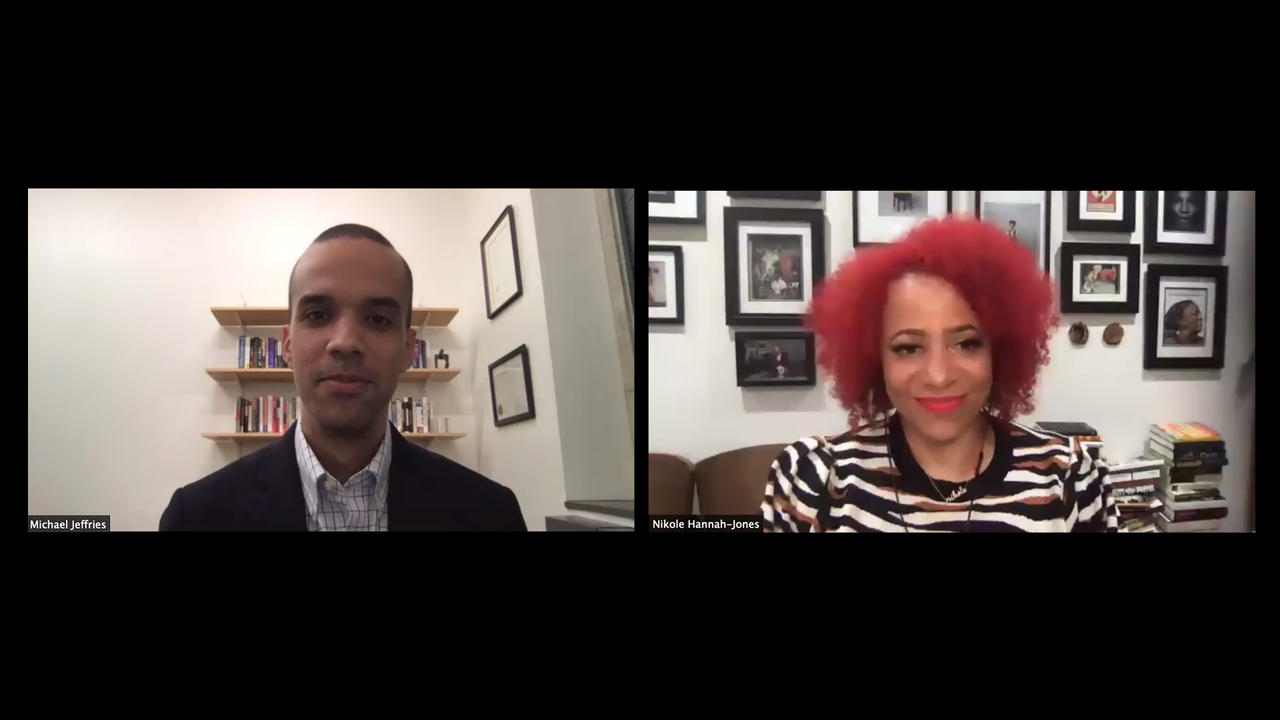 Nikole Hannah-Jones Discusses the Legacy of 1619 and Racial Justice Today With the Wellesley College Community
"Who can be more patriotic than people who were enslaved by this country for 250 years then forced to live through 100 years of racial apartheid and terrorism, and still believe in the fight for this country to live up to its ideals?" Pulitzer Prize-winning journalist and MacArthur Fellow Nikole Hannah-Jones asked Wellesley College students, faculty, and staff on September 29. "When they drafted those words in the declaration, which don't include [Black people], we have to believe that they do. We have to believe that this country can be what it has never been, because how else would we have survived this long?"
Michael Jeffries, dean of academic affairs and professor of American studies, interviewed Hannah-Jones at the virtual event, which served as both the Betsy Wood Knapp '64 Lecture in the Social Sciences and the Wilson Lecture. Hannah-Jones is the creative force behind The 1619 Project, a groundbreaking New York Times series that put the legacy of slavery at the center of our national story on the 400th anniversary of the arrival of the first enslaved Africans to the U.S. She covers racial injustice for the Times and is a co-founder of the Ida B. Wells Society for Investigative Reporting, which seeks to increase the ranks, retention, and profile of reporters and editors of color in the field of investigative reporting.
At the start of the event, Olga Shurchkov, director of the Knapp Social Science Center, talked about the history and background of these prestigious academic lectures and the impact of Hannah-Jones' work.
President Paula A. Johnson then introduced Hannah-Jones. "One of Wellesley's core values is inclusive excellence, and Nikole Hannah-Jones' contributions exemplify why this is fundamental to everything we do," she said. "The questions we ask, the stories we tell, are shaped by what we've experienced, by who we are."
Jeffries began by asking Hannah-Jones how she became the kind of journalist she is today. "I did know that I always wanted to write about race, that writing about the Black experience and racial inequality was really the only reason I ever became a journalist," Hannah-Jones said. "I knew I wanted to write about our experience, and I'm a journalism major, but my first love has always been history. My undergraduate degrees are in history and African American studies. And I always have woven history and a deep historical understanding into my work, because I've long believed you cannot write about the present, particularly when it comes to race, if you don't have a strong grounding in the history of how we got here."
"For people who have accused the 1619 Project of being anti-American, I often wonder, did they actually read my essay? Because my essay is the most patriotic thing I've ever written."

Nikole Hannah-Jones
Hannah-Jones said she had been thinking about the year 1619 since she was in high school, so in many ways, she has been building the idea for the 1619 Project for over 20 years. "I've spent much of my career trying to show the ways that the legacy of slavery still permeates modern society, and I used to have this joke that anything about American life, I can trace it back to slavery, I don't care how obscure it is. And this is kind of a chance to prove that," she said. The resulting multimedia experience took over six months to complete—the largest single project in the Times' history—and involved historians, art historians, sociologists, economists, musicians, and others.
"I felt so many times that [our ancestors] were carrying me through doing this project, and I felt a tremendous pressure to do right by them, their struggle, their resilience, and their story," Hannah-Jones said.
"I wanted to make sure that this…wasn't just about what happened in the past," she said. "I wanted to show that our country hasn't gotten over it, that we can look in our systems of democracy capitalism—I mean, why we're the only Western industrialized country without universal health care—and that so many aspects of our life in this country can be explained by slavery and anti-Blackness. And yet we've erased that from our collective memory."
Jeffries asked, "What does justice for Black people look like in the United States?" Hannah-Jones responded, "I can imagine it. Justice for Black people looks like equality. It looks like being treated like every other person in this country and not facing discrimination across every aspect of American life. For Black Americans this looks like reparations for 350 years of racialized plundering…for people who have accused the 1619 Project of being anti-American, I often wonder, did they actually read my essay? Because my essay is the most patriotic thing I've ever written."
During the Q&A portion of the event, Jeffries asked a question from the audience about the role of objectivity in journalism today. Hannah-Jones said, "We are human beings, all of us. If you know enough about something, you have an opinion about it. What I think is important is the objectivity of method. Are you fair, are you factual, are you accurate, but not that you pretend not to know the things that you know…I think we have to really question where this idea of objectivity comes from, what does it mean and how does it play out."
In closing, Hannah-Jones talked about the next phase of the 1619 Project: a book, new essays about different areas of American life, a children's book, and documentary and film productions. "One of the things I think about all the time is my family back home in Waterloo, Iowa—blue-collar, working-class folks who are very, very proud of me but they don't read the New York Times. There are lots of our folks who are thirsting for this knowledge who are very intelligent, but they're not reading 10,000-word essays in a magazine. And so TV and film and a book allow us to reach so many more people who can get this reframing and this new understanding."