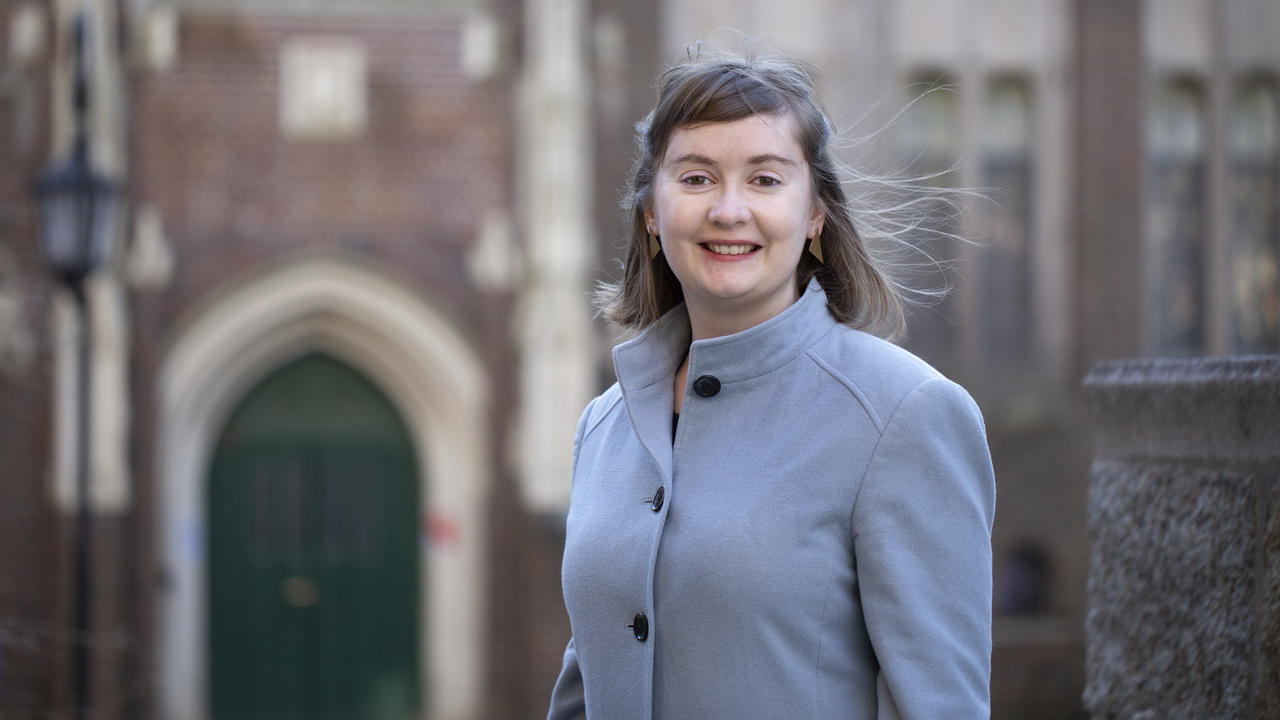 The Surprise Computer Scientist: Meet New Professor Carolyn Anderson
Carolyn Anderson didn't expect to find herself in the field of computer science. She took an introductory course during her first year at Swarthmore College just to get her lab requirement out of the way, but she got hooked when she discovered that computer science would allow her to combine her various interests and find connections between machines and humans.
Anderson is now an assistant professor of computer science at Wellesley, one of several new faculty members the College has welcomed over the past two years. To help Wellesley get to know these talented, new members of the community, we asked them to tell us a bit about themselves. This is the first in a series of five articles with new faculty members to come in the following weeks.
Aidan Reid: What do you like most about your research?
Carolyn Anderson: My research lies at the intersection of linguistics and computer science. My background is in psycholinguistics and cognitive modeling. Although this is an unusual background for a computer scientist, it's given me a set of tools that I can apply to a wide range of questions about language and computation. Some questions involve running experiments to understand how humans use language. Others involve probing the representations of language that machines build when we train them to do language-related tasks. Still others involve running computer simulations of human language use.
I love that I can apply this toolkit to a variety of different research questions. I also love that my research is very approachable. Students with a variety of backgrounds and skills can get involved. 
Right now, students in my lab are researching questions that range from "How do neural network models understand murder mysteries?" to "How does the historical under-representation of certain groups of people impact what artificial intelligence learns about them?" and "What do neural networks think I should eat for breakfast—and whose tastes does that reflect?" A neural network is a computer model that is made up of many, many small units. Although each unit does only a simple calculation, when we connect thousands of units together, they can learn complex functions. When we train a model, we feed the model example problems for which we already know the answer. Then we adjust the model so that it gets better and better at guessing these answers. If they are trained on enough data, and the problem is easy enough, neural networks can learn to perform well on problems that they haven't seen before—problems that we might not know the right answer to yet.
I also like that my interests make it easy to collaborate outside of computer science. One of my students is working to train computer vision models to identify and classify marginalia in medieval manuscripts as part of a collaboration with Alex Brey in the art department. One of the reasons I was excited to join Wellesley is that researchers at liberal arts colleges are less siloed into their individual departments than at larger universities.
Reid: What was your path to Wellesley?
Anderson: I'm a classic liberal arts student in the sense that I've always been pulled in many different academic directions. In college, I ended up majoring in linguistics and minoring in CS. After graduation, I studied language revitalization as a Fulbright scholar in Canada, and I started a linguistics Ph.D. at UMass Amherst with a focus on semantic fieldwork on underdocumented languages. I soon realized that I missed doing computer science, and I switched to working on computational modeling of language and then to exploring the linguistic representations of deep learning models. 
I had a lot of opportunities to teach in grad school, and I realized that while I love linguistics, I prefer teaching computer science. It's rewarding that students can take what they've learned and apply it to entirely different problems, to answer questions they never would have thought to ask. It's also satisfying because it isn't a field that felt like a natural fit to me at first. By teaching CS, I get the chance to open up pathways for students who, like me, didn't think they would feel at home in the field.
By teaching CS, I get the chance to open up pathways for students who, like me, didn't think they would feel at home in the field.

Carolyn Anderson
Reid: What impact do you want to have on students and learning?
Anderson: My goal is to open students up to a much broader vista of what computer science is and can be. Historically, computer science has been seen as a field with a very technical but narrow focus: how to build technology for computation. As a result, the more interdisciplinary subfields of CS, like human-computer interaction, natural language processing, artificial intelligence, and data science have been seen as less important or central to the field.
This narrow view of computing went hand-in-hand with a narrow view of who could be a computer scientist. It's probably not a coincidence that these subfields also have a higher proportion of female computer scientists.
Perhaps because of my background in the social sciences, I'm most excited by research that asks questions about computational technologies as complex human-made systems. How do they learn? What kind of meanings or representations do they develop? How are these processes impacted by the culture in which they are created?
I would like to show students that computer science offers a set of tools and a lens that can be applied in many different domains. It's a field that can complement, rather than compete with, other intellectual interests. I hope that broadening the kinds of questions we see as computer science questions will also open pathways back into the field for students who might have felt or been told that CS was not for them.
Reid: Here are some rapid fire questions for you to close out: If you could have dinner with any person (living or dead), who would it be?
Anderson: Well, if fiction is fair game, I would assemble a dinner party of the fussiest food-obsessed detectives from literature: Hercule Poirot, Nero Wolfe, and Lord Peter Wimsey (accompanied by Harriet Vane, of course). Then I'd throw in Flavia de Luce for added chaos. I have a soft spot for golden age detective fiction, and I love food, so this combines my interests. But I wouldn't want to pick the menu, because I'm not really a gourmand!
Reid: Favorite winter comfort food, or favorite food/restaurant discovered since coming to Wellesley?
Anderson: Truly's! It's so good.
Reid: Favorite spot on Wellesley's campus or in Boston that you have explored or are looking forward to exploring?
Anderson: I visited the Gardner Museum over the summer, and I'm looking forward to going back. It's easy to get to from Wellesley, and such an interesting eclectic collection.
Reid: What are you reading, watching, or listening to right now?
Anderson: I haven't started it yet, but I'm excited about listening to "Familiar Shapes," a podcast on connections between witchcraft and technology by a professor at UNC Charlotte that my cousin recommended.