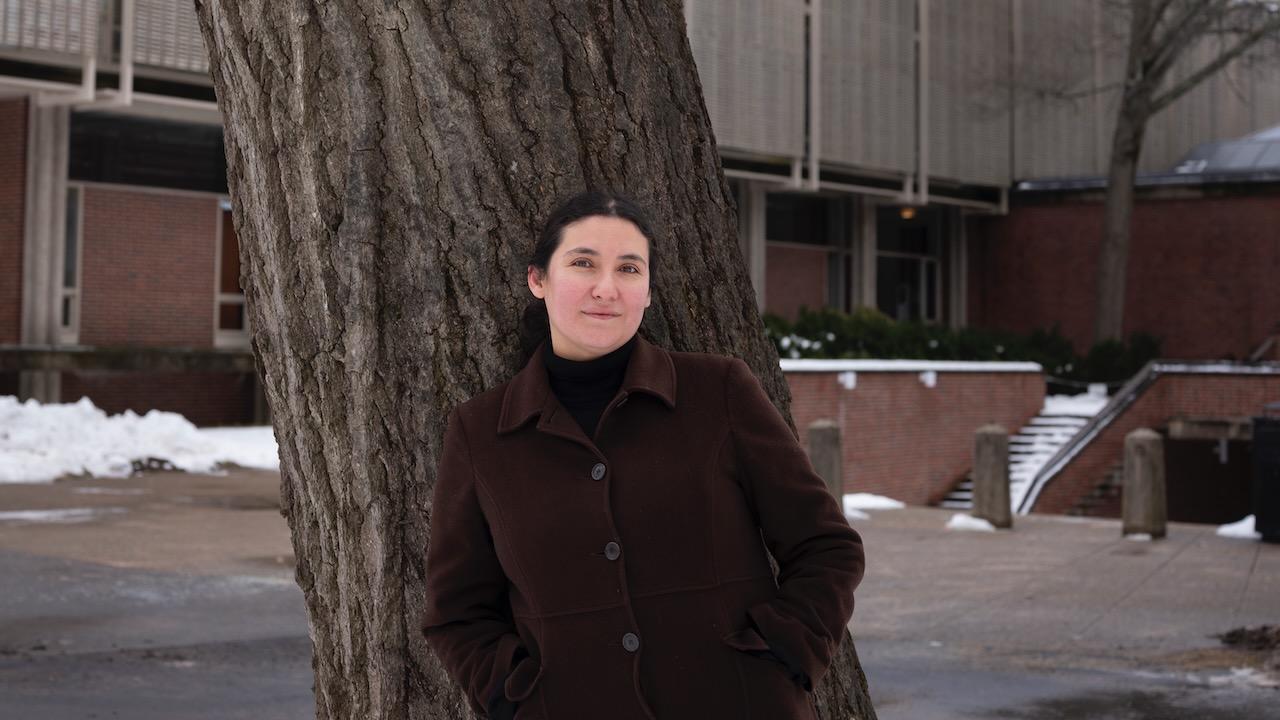 Art as a Vehicle for Storytelling: Meet New Professor Kathya Landeros
Kathya Landeros knew she wanted to be a photographer the first time she looked through a photo book. During one of her weekly trips to New York City when she was studying at Vassar College, she stopped by the now-closed Skyline Books, where she discovered a copy of Robert Frank's The Americans, first published in 1959. Landeros said the photographs were as "powerful and poignant as anything I had read or seen up to that point in that they laid bare the inequities of the United States." Her desire to create photographs that could function as social documents started with that book.
Landeros is now the Knafel Assistant Professor of Humanities and an assistant professor of art at Wellesley, one of several new faculty members the College has welcomed over the past two years. To help Wellesley get to know these talented members of the community, we asked them to tell us a bit about themselves. This is the second in a series of five articles with new faculty members we'll be featuring in the coming weeks (check out our conversation with Carolyn Anderson, assistant professor of computer science). 
Cheryl Minde: What was your path to Wellesley? 
Kathya Landeros: I have been teaching for almost 10 years, since leaving graduate school. My first position was as an adjunct professor at a community college in northern California, near my home, and then at a public four-year institution. About five years ago, I received a visiting professorship at my alma mater, which brought me back to the Northeast and a step closer to Wellesley College. It has been a long and indirect path here, and I've enjoyed every step and misstep I've taken.
Minde: What drew you to teaching photography?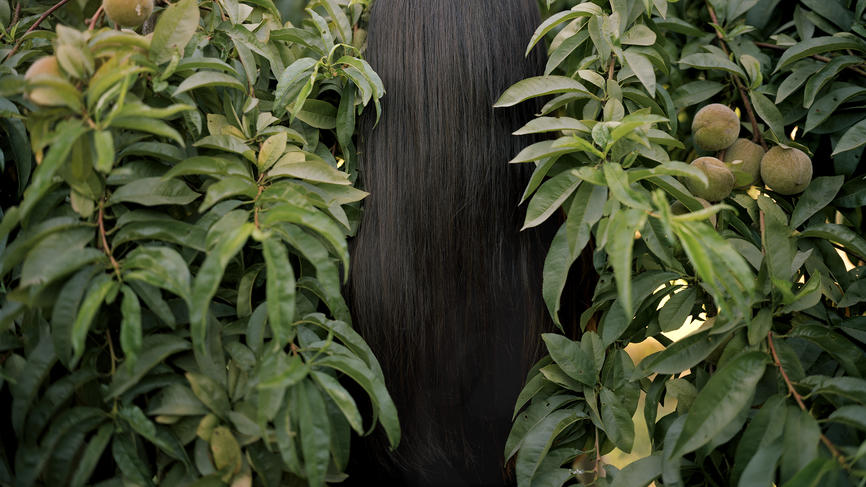 Landeros: When I was in graduate school, I was truly challenged by some great professors to make work that was unique to my experience. During the time in my M.F.A. program, I taught two undergraduate photography classes. Although I wouldn't say that there was a singular moment that led to my desire to teach at the college level, this experience certainly taught me a lot about leading a classroom, specifically that the process of introducing students to photography, truly making them excited about it, can be a worthwhile challenge.
Over the years, teaching in a wide variety of institutional settings, it has been an honor to meet so many memorable students and work with talented colleagues who have kept me motivated and reaffirmed the meaning of what I do. Although I can't take any credit for the grit and talent of most students, it's always gratifying to hear of their accomplishments, whether it be working on a Fulbright fellowship, or getting their photographs published, or pursuing a path that feels authentic to them. For example, I recently had a former student reach out to me, and he's doing really well and photographing in his hometown in California. I was touched that he remembered me and my class. In some ways, teaching is about building relationships and a community that extends beyond the classroom walls, and that can feel really constructive in a world that often feels too disconnected.
Minde: How has your time in migrant and immigrant communities shaped your approach to photography and teaching?
Landeros: My parents are immigrants, and I am a first-generation Mexican American. This has led to my long-term research photographing Latinx communities, some very close to home. In working on these photographs, my intention has always been to create a narrative that includes a wider representation of who we are as Americans, and in particular out west, which is where my family settled. 
When I am in the classroom, it is not lost on me that I am a minority, both as a female photographer and as a person of color in my profession. I feel very fortunate to be in that position—and I do not take that position for granted.
Growing up, I may not have been privileged in many regards, but I was certainly graced with support and love from my parents, who instilled in me the value of an education from an early age. I carry this lesson forward in my classroom, trying to be supportive and positive with my students. We are at Wellesley, and that is an extraordinary opportunity.
Minde: What impact do you want to have on students?
Landeros: I want them to gain an appreciation for the potential of photographic language and art as a vehicle for storytelling. Students, especially at the beginning of their artistic exploration, can feel very intimidated by the technical aspects of photography, but I never want this anxiety to foreclose on their ability to make and appreciate art. After all, we all have such unique backgrounds and perspectives that we bring to the table. If a student feels that the learning experience is inaccessible to them, then I fear that I have failed as a professor.  
Growing up, I may not have been privileged in many regards, but I was certainly graced with support and love from my parents, who instilled in me the value of an education from an early age.

Kathya Landeros, Knafel Assistant Professor of Humanities and an assistant professor of art
Minde: What are your goals here at Wellesley? 
Landeros: My short-term goal is to get more students into the classroom learning about photography and art in general.
In the long term, Wellesley will hopefully become my forever home, and my goal is to diversify and expand the classes that I teach by redesigning the photo courses. I'm taking small steps right now in regard to my curriculum because it's been challenging teaching in a pandemic. Over time, I'd like to collaborate more with my colleagues, both in and out of my department, and experiment a bit more in using the landscape in my teaching. For example, it would be great to design a course, or part of a course, using plants on the campus to create anthotypes, which is one of the most environmentally friendly photographic processes and was, interestingly enough, discovered by a pioneering female scientist, Mary Somerville, in the 19th century.
Minde: What is something about you that people would be surprised to learn?
Landeros: I think many of my students are surprised to hear that I did not study photography or art in college as part of a major or a minor. I kind of stumbled upon photography and then only pursued it as a career later on in my 20s. Like many students at Wellesley, I double-majored and received a solid liberal arts education in the humanities. It took me a while to figure out what I really wanted to dedicate myself to fully, and there were many mistakes along the way. 
Minde: And now for some rapid-fire questions for you. If you could have dinner with any person (living or dead), who would it be?
Landeros: My grandmother, who passed away in 2015. There are many things I'd love to share with her. She never had the opportunity to meet my daughter, so it would be a dream to prepare and share a meal with her and my daughter, Arden Antonia.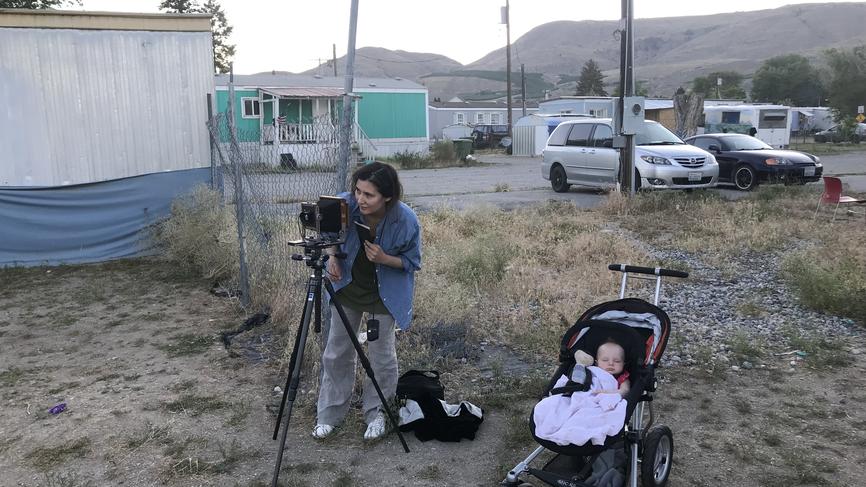 Minde: Do you have a favorite winter comfort food, or a favorite food/restaurant you've discovered since coming to Wellesley?
Landeros: Homemade squid ink pasta with Captain Marden's clams. 
Minde: What is your favorite spot on Wellesley's campus? 
Landeros: The path along Lake Waban. I'd like to explore every part of it and throughout the different seasons. 
Minde: Is there someplace in the Boston area you're looking forward to seeing?
Landeros: I want to visit the Louisa May Alcott Orchard House in Concord, preferably in the spring or summer when the landscape is more verdant. My partner and I restored an 18th-century home, and we have a genuine appreciation for architecture from this period. Not to mention, I have loved Alcott's books for as long as I can remember and am very curious to see her work space. I can't believe I have yet to visit her house.
Minde: What are you reading, watching, or listening to right now?
Landeros: Well, aside from the children's books I read and reread to my toddler, I just started Orwell's Roses by Rebecca Solnit. I thought it would serve as an antidote to these anxiety-producing times as the book is described as "a meditation on pleasure, beauty, and joy as acts of resistance." I am also reading Yusef Komunyakaa's Everyday Mojo Songs of Earth, a collection of poems. 
A selection of photos by Kathya Landeros will be on display until May 1, 2022 at the Suzy Newhouse Center for the Humanities, located on the second floor of Green Hall.