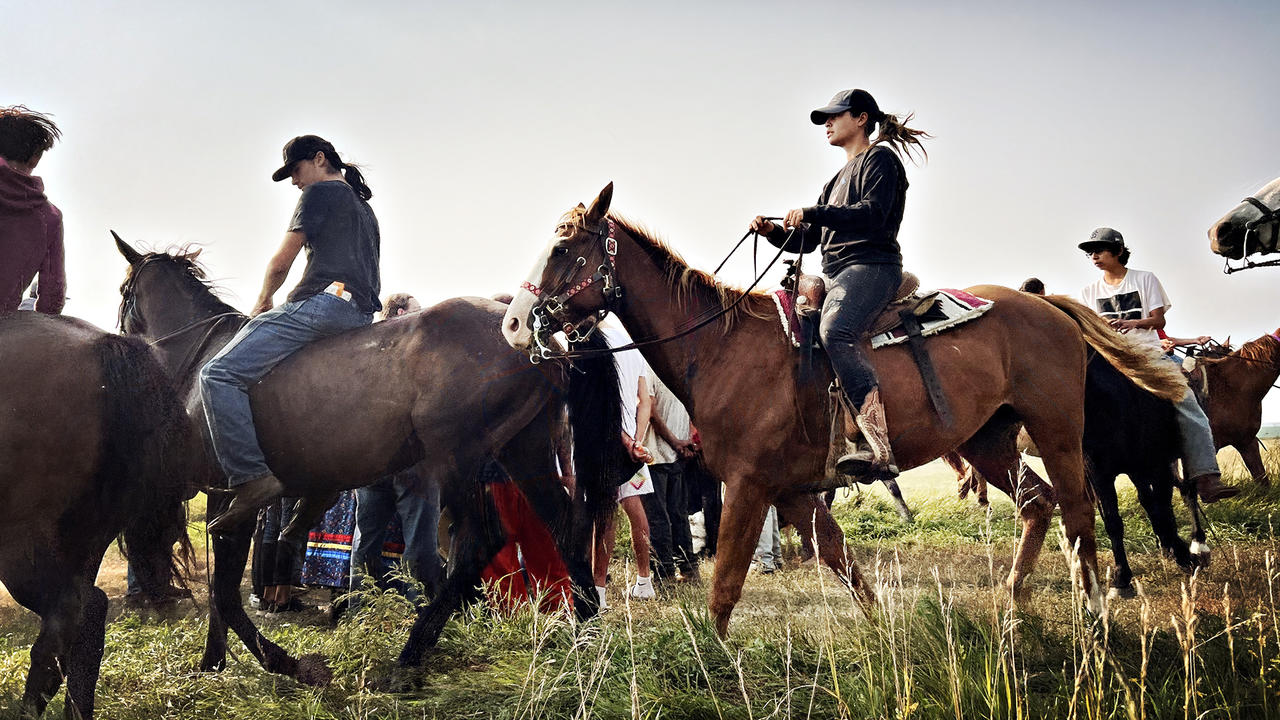 Honoring History on Horseback: Wellesley Community Members Join the Whitestone Hill Ride
This past summer, Katharine Hyslop '17, Audrey Hirsch '23, Juliette Mattair '24, and Elena Creef, professor of women's and gender studies at Wellesley, participated in the Whitestone Hill Ride, a weeklong 200-mile ceremonial Dakota horse ride from Fort Thompson, S.D., to the Whitestone Hill historic site in North Dakota. 
"I wanted to learn more about the whitewashed history of the American West, and to see the different ways that these activists are working to decolonize that, and how communities are creating cultural resistance to those narratives," Hirsch said.
Hirsch and Mattair learned about the ride from Creef, who has participated in 19 different Lakota and Dakota Indigenous horse rides over the past nine years. Hirsch took Creef's team-taught course in women's and gender studies and American studies, AMST 274/WGST 274: Gender and Race in Westerns: Rainbow Cowboys (and Girls). Mattair was Creef's research assistant for a project on the Lakota horse rides. Hyslop was also a student of Creef's, and since graduating from Wellesley she has been teaching and working in Lakota reservation schools in South Dakota for Teach for America.
This was Creef's fourth Whitestone Hill ride, an annual journey that began in August 2020. It commemorates the events of September 3, 1863, when U.S. soldiers from the 2nd Nebraska Cavalry and the 6th Iowa Cavalry killed more than 400 Dakota men, women, and children who were gathered at Whitestone Hill for their annual buffalo hunt, ceremonies, and preparation of meat for the winter. The attack had been largely forgotten over the last 160 years, but with the support of the North Dakota State Legislature and the State Historical Society of North Dakota, the Dakota people recently succeeded in getting Whitestone Hill reclassified as a massacre site; it had previously been called a "battlefield."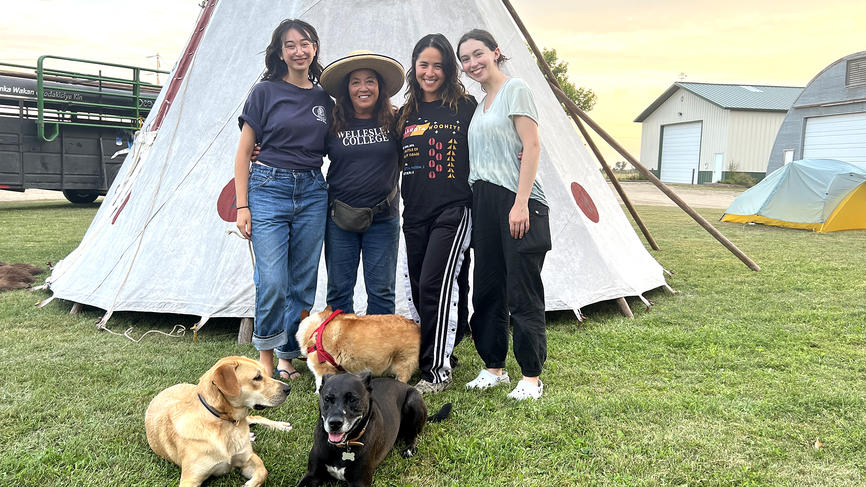 The riders, many of whom were descendants of those who died and those who survived the 1863 massacre, covered roughly 30 miles a day on horseback.
During this summer's ride, Creef, Hirsch, and Mattair were part of the cookshack crew in charge of preparing food and feeding everyone on the ride. "It was so fun. You wake up before 7 to start getting breakfast ready. We all gather to eat, and elders get offered plates first. At the beginning of every meal, there is always a spirit plate," which contains little pieces of food from the groups' meal, Mattair said. "And one of the elders will go and say a prayer and make use of that offering. Going through that routine every day, it was really beautiful. And we became part of the community so quickly."  
For the past three years, Creef has also been part of a team working on a documentary about the Whitestone Hill Ride. "The Dakota riders asked several of us academics in the group if we would help them make a documentary film," she said. "We're all volunteers and we're all doing this as a labor of love. But we're hoping to have it completed in 2024." 
The ride culminated with the group's arrival at a monument dedicated to the 20 U.S. soldiers who died at Whitestone Hill. The riders gave war cries as they reached the top, a way to try to make up for their ancestors' inability to fight back during the massacre. 
Hirsch, who wasn't on horseback that day, watched them come up the hill. "It gave me chills, honestly," she said. "By the end of the ride, everyone's really physically and emotionally exhausted, but that final charge up the hill, it's just so exhilarating and cathartic. Seeing the horses and the riders sprinting up and down the hill, it's just so powerful. I don't even know how to put it into words."
Joining this ride and the community had a profound impact on Hirsch and Mattair. "It made me rethink what family looks like," Hirsch said. Mattair, who hopes to do the ride again, said it was incredible to see how "humans can come together and heal and love one another.