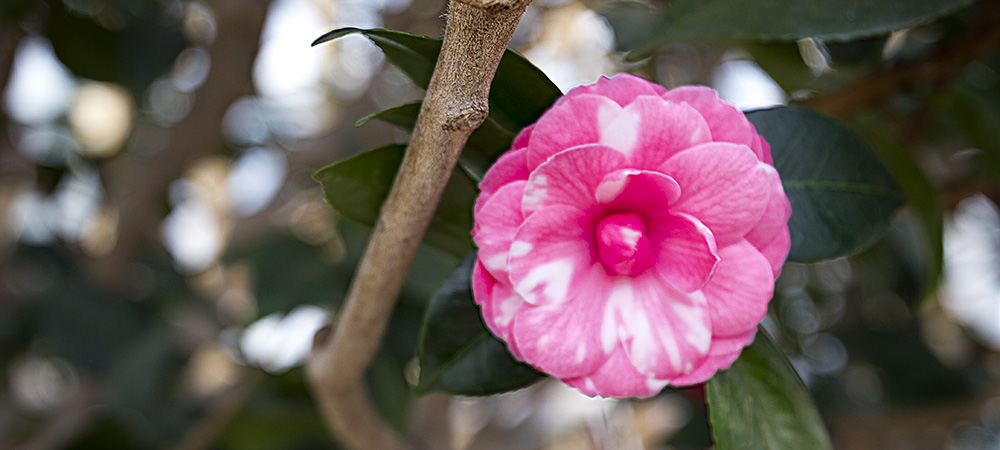 The Camellia Student Leadership Awards are named after one of the longest lasting gifts of Wellesley's founders, Henry and Pauline Durant, to the college. An elegant example of a species of flowering tree, the Durant Camellia is a symbol of strength, grace and ongoing growth and has borne silent witness to the development of outstanding leaders throughout the college's history. Like the development of leadership, the Camellia also requires attention, sustenance, and a nurturing environment in which to grow.
The awards honor students who have grown as leaders during their time at Wellesley. The honorees, in full appreciation of the opportunities their time at Wellesley has presented, look inward toward their own growth and development, work collectively with diverse groups of peers, and carry their passions forward with the support of others. Like the Camellia tree, these students demonstrate grace and strength.
We welcome all members of the Wellesley College community (faculty, staff and students) to nominate students who they feel exhibit the spirit of an award for consideration. Nominations may be submitted between Feb 16 and April 2, 2023.
Nominations can be submitted via WEngage using the links below. Please note that past award recipients are not eligible to receive the same award in future years. You will find a list of past recipients in the menu bar to the left.
Honorees and Recipients of the 2023 Camellia Student Leadership Awards will be recognized at a ceremony on Tuesday, May 2, 2023 at 4pm. 
Individual Awards
Resilience in Leadership Award
Recognizes a student who has led others in pursuit of a common goal while modeling resilience. This student has demonstrated resilient leadership through a constructive response to challenge or change. https://wellesley.presence.io/form/resilience-in-leadership-award-nomination
Balanced Leadership Award
Recognizes a student who has demonstrated leadership in the classroom and through intentional co-curricular engagement while at the same time demonstrating a commitment to personal well-being. https://wellesley.presence.io/form/balanced-leadership-award
Emerging Leadership Award
Recognizes a first year student who has demonstrated leadership potential through ongoing cultivation of leadership skills and active engagement in campus life. https://wellesley.presence.io/form/emerging-leader-award-nomination
Community Cultivation Leadership Award
Recognizes a student who has demonstrated leadership by building community on campus based on a foundation of trust and empathy. https://wellesley.presence.io/form/community-cultivation-leadership-award-nomination
Team Leadership Award
Recognizes a student regardless of a formal leadership position who has demonstrated leadership by positively contributing to group dynamics and motivating peers to move toward a shared goal, often without recognition. https://wellesley.presence.io/form/team-leadership-award-nomination
Individual or Group Awards
Sed Ministrare Student Leadership Award
Recognizes a student or group of students who has demonstrated leadership by giving of themselves to make Wellesley a better place and inspires their peers to do the same. https://wellesley.presence.io/form/sed-ministrare-student-leadership-award-nomination
Community Partnership Leadership Award
Recognizes a student or group of students who has demonstrated thoughtful engagement with a community partner outside of Wellesley College to collectively address an expressed need. This student or group of students has demonstrated leadership by centering community needs and voices. https://wellesley.presence.io/form/community-partnership-leadership-award-nomination
Creative Leadership Award
Recognizes a student or group of students who has demonstrated leadership through creative problem solving, proposing a new solution to an existing challenge, or taking an unconventional approach to an existing issue. https://wellesley.presence.io/form/creative-leadership-award-nomination
Inclusive Leadership Award
Recognizes a student or group of students who has demonstrated leadership through action that expands involvement and inclusion of peers across difference. https://wellesley.presence.io/form/inclusive-leadership-award-nomination
Group Award
Collaborative Excellence Leadership Award
Recognizes a group (or groups) of students who have demonstrated leadership by taking collective initiative toward a new goal or initiative that could not have been accomplished independently. https://wellesley.presence.io/form/collaborative-excellence-leadership-award-nomination