NOTE:  Eduroam is unavailable on campus for the '20-'21 academic year.  Your eduroam account will still work on eduroam at other colleges, provided eduroam is active at those colleges.  Please check with the college you're visiting and see if they are still broadcasting the eduroam wifi network.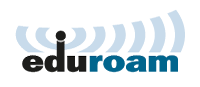 Wellesley now participates in eduroam. Eduroam is a free service that provides secure wireless access from any participating educational institution. If you are visiting a participating educational institution worldwide, all you need to do is to connect to the wireless network called eduroam. When prompted for username and password, use your Wellesley email address (username@wellesley.edu) and your Wellesley domain password. You don't have to contact your collaborators or go through any guest registration process to get access to the network. Once successfully connected, you should have access to the Internet.
In a similar fashion, if you have colleagues visiting you from other eduroam institutions, they can do the same when they are at Wellesley. Please contact the Computing Helpdesk if you have any questions.