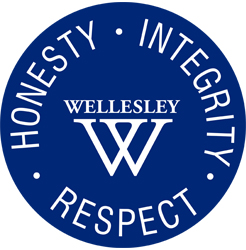 Honor Code Council members are SOAC appointees and applications are accepted in the spring.

Length of Term: 1 year
Chair: Chief Justice
Administration: Dean of Students
Time Commitment: 1-2 hours per week and hearings, honor code talks, and programming
What is the role of the student on this committee?
To act as a liaison to their constituency. To sit on hearings of honor code violations. To educate the campus about the honor code through posters, talks and answering questions.
What is the goal or focus of this committee?
The first major purpose of this committee is to educate the Wellesley community about the Honor Code and for the members to act as advocates for the Honor Code
Second purpose is to adjudicate violations of the Honor Code
 
What are some good qualities for an applicant to have for this committee?
Students on this committee need to be able to analyze and synthesize information on the spot (i.e. walk into a trial and hear about circumstance...)
Need to be 'listeners'. Hearings are focused on learning what happened in a particular situation.
Confidence to speak up in presence of Professors and Administrators (need to contribute to discussion during hearings)
Commitment to the Honor Code, not that they think it works perfectly, but the commitment to the spirit of the Honor Code and making the system workable
Community spirited.
A strong sense of what it means to be a part of the Wellesley community
Time organization
Being a responsible person
Problem solving skills
Willingness to speak "a less than popular opinion," particularly during hearings.
 
Pros of being an Honor Code Council Member:
"It is rewarding, especially if the Honor Code is something that is important to you."
"Take part in communicating with first-years and transfers."
"Opportunity to improve student opinion about the Honor code."
"It is fulfilling to help in the process of securing and educating on the Honor Code."
"Serious and responsible co-student members."
"Students see the judicial aspects of the Honor Code. It makes the Honor Code less abstract to see it in action and to see the ramifications of violations."
"Once I got past my own discomfort, Honor Code discussions (when they work) are kind of fun."
"Lots of fun. Educational. Sense of satisfaction from educating others and promoting the Honor code."
"Being involved in such a long-standing Wellesley tradition. It's a nice size committee-small enough that you get to know everyone and you get to be involved in everything the committee does.
 
Challenges of being an Honor Code Council Member:
"You become anal about making sure you cite all your sources!"
"Sometimes your friends may tease you about being the Honor Code police."
"Serving on hearing panels can be difficult"
Cannot discuss issues concerning General Judiciary with people outside of it