Azalea Troche '18 Shares Her Story at Our 2018 Annual Meeting
On June 9 during Reunion Weekend 2018, Azalea Troche '18 spoke at the WSAS Annual Meeting.  Ms. Troche shared her story with attendees and spoke of how WSAS affected her Wellesley experience.  We're happy to share her story here with you!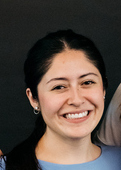 Azalea Troche '18
Wellesley Students' Aid Society Annual Meeting
Reunion Weekend 2018
"Hello everyone. Thank you for having me with you today. And thank you to President Johnson, the Wellesley Students' Aid Society, trustees, Professor Joy Renjilian and family and friends. 
I want to extend my deepest gratitude to you all here for supporting the Wellesley Students' Aid Society. The assistance I received the past four years transformed my experience to one where my hard work paid off and my goals were achievable. I would like to start with a short anecdote. It was right around the time when I would leave to start my journey at Wellesley College. One hot morning, I got into the car with my dad and we drove to a nearby bank to take out a loan. While driving, my dad said to me with a worried look, "Make sure you borrow enough money." I had to consider all my finances because my parents would not be with me at orientation nor would they be able to support me financially while I was at Wellesley. We arrived at the bank where a Hispanic woman sat down with us. She spoke to us in Spanish, so my dad could understand the conversation. "What can I help you with today?" she asked. "Well, I need a loan to help me pay for my tuition, flights, textbooks, bedsheets and any emergency," I explained. My palms were clammy, and my face felt warm. I really had no idea what I was doing, and I was scared I would make a mistake. I threw out a number, $4,000 - my best guess for what I would need for the next year. She laid out several pamphlets before me. Charts with several types of private loans and interest rates stared back at me. It felt like a high-pressure game and like she didn't realize that my dad and I were confused about how this worked. If I didn't choose correctly now, I would lose and be stuck paying thousands more for the rest of my life. But, I couldn't afford not to take a loan out, because my parents didn't have the money to help me. My dad was looking at me with a panicked expression. "Make sure you have enough," he repeated. We left soon after. I had signed my name for a $4,000 dollar private loan with a fixed interest rate of 11%. That day has stuck with me all this time because it was daunting for me and my dad. For the first time, I felt cornered into making a faulty financial decision to achieve my goal because my family didn't have enough money. I am so grateful to Wellesley College for reviewing the loan my first week during orientation and showing me that I had other, better options that wouldn't take advantage of my financial situation. My dad and I didn't know better, and it was our first time calculating how to pay for an education beyond our dreams and so far away from home. This is when my relationship with the WSAS began.
I was born to Mexican immigrant parents and raised in Garland, TX. My sisters and I are first generation college graduates. Growing up, my parents did everything right, they taught us to value education, to work hard, to dream big and to ask for help when we needed it. I always had enough to feel normal and to reach my dreams. When I arrived at Wellesley, I was alone and felt out of place. I never expected class to be my biggest obstacle here, but it was. The Wellesley Students' Aid Society is one of the most important resources I discovered and turned to during my four years here. They were my support system during the moments when financial need threatened to take away a necessity, an opportunity, or an experience from my college career. My first year, I found them and took out an emergency loan while I waited for my subsidized federal loan to be processed. This emergency loan helped me pay for my textbooks and dorm necessities. It gave my parents peace of mind. Later that year, I turned to the WSAS to ask if they could help me pay for my eye exam. Without hesitation, they kindly asked me how much I needed and gave me a grant. I cannot say thank you enough. My sophomore year, I landed an internship in New York by way of the Wellesley network. Never in a million years did I expect to be working in New York at a consulting firm. And at 20 years old, I was making more money than my parents. I was so happy. Immediately, I began looking for housing and information about New York expenses. I found an incredible room in New Jersey but panicked when the landlords said they needed the first months deposit within a week. I didn't have $1,500 dollars. My parents were scrambling, trying to find a way to collect this money for me in time. Again, I turned to the WSAS for help. That same week, I met with a kind alum who worked for the WSAS. She congratulated me on my accomplishment and wrote me a check so that I could secure my housing for the summer without further worry. My parents relaxed, and so did I. That summer, I gained so much experience and saved as much money as I could. This would not have been possible without the help of the WSAS. My junior year was one where money didn't curve my Wellesley experience the way it had before. I was still borrowing a laptop from Clapp because I was saving up to buy one on my own, and I still worked two jobs, but my savings were enough to make me feel financially stable. That summer I worked in New York once again, but I could afford to pay my own housing deposit. My senior year, I turned to the WSAS one last time. They helped me bring my parents all the way from Texas to my graduation to celebrate my accomplishment. It was my dad's first time visiting Wellesley, and it was a really special day for me and my family.
The Wellesley Students' Aid Society helped me feel that I belong here. The women who helped me whenever I walked into their office were gracious, kind and understanding. Without them, I don't think I would have stayed at Wellesley College. Thank you WSAS for supporting me, and always giving me the extra help I needed to achieve my goals and become the Wellesley Woman that I am today."
Azalea Troche '18 is from Garland, TX and majored in Economics while at Wellesley.  Her post-graduation plans include interning with the International Rescue Committee for summer 2018 in their Dallas office. She will be working in the financial department and helping build a financial literacy program specifically for Hispanic immigrants in the area. In October, Ms. Troche will be moving to New York to begin full time work at Accenture as a Consulting Analyst.