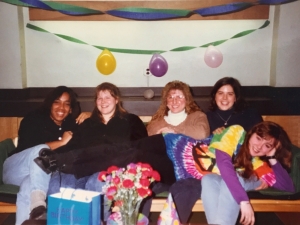 Eugénie Bisulco '94
Peace of Mind to Let Positive Qualities Shine
Type of aid: For some reason I remember most those smaller items that really helped start each year out with the best foot forward.
How WSAS affected my college experience: Had my financial aid offer the first year been, I think, one dollar less, I may not have attended Wellesley. Actually, I recall the expense to my parents that year being around $5,000, which was about $5K more than my parents had counted on needing to provide.
So to arrive at Wellesley and be faced with the sudden realization that books actually cost money...well, it's difficult, especially if you brought with you no money. WSAS allayed my fears. If I'm remembering correctly, I received a book check for $75, which may not seem like much, but it really is a lifesaver to people in my economic position.
I ended up working for the Financial Aid office two or three summers in a row, and I managed to get the amazing responsibility of assigning all the incoming first-year students to their Work-Study positions and helping the office to develop a new plan and system for making those assignments going forward. Hence, I got to see the potential impact WSAS and other aid would have on students like me who had little to no other resources.
Once, in a conversation with a close friend who knew I worked there (and with whom I remain close today), she told me about an emergency financial situation she had suddenly found herself in. She broke down in tears and seemed frightened. I recommended that she pay a visit to WSAS. She did so, received some money immediately, and was able to keep up her grades (and her spirits!) during that trying time…. The fact that this suggestion worked and landed my friend back on her feet made me know that I could rely on WSAS too.
There's a lot to be said for having that peace of mind. It enables one to work, be solution-oriented, and have a positive outlook even when things get challenging. I still have those three qualities; I am hardworking, solution-oriented, and optimistic. Things might have been different without the Students' Aid Society.
Paying it forward: I started a fund a couple of years ago in honor of my late arts professor, James Wilson Rayen. I like that WSAS makes it easy to create funds like that. 
Photos: Above - Eugénie Bisulco (lying across the others) with Wellesley College friends at her surprise 19th birthday party, March 1991.  Below - Eugénie Bisulco in 2018.