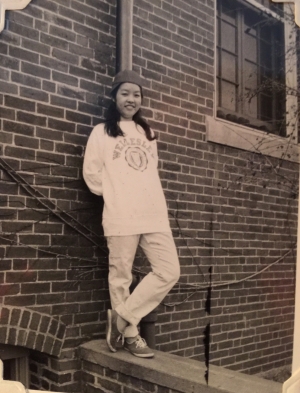 Dr. Wan Lim '68
Freedom to Embrace the Wellesley Experience
Type of aid: Furnishings for the dorm room, gift cards for books, ALL my clothes for 4 years.
How WSAS affected my college experience: From my first introduction to the Students' Aid Society, I knew it was a place I could count on. I had just arrived from a tropical third world country (Malaysia) with my one suitcase and no money. I remember receiving a voucher for the bookstore and a dictionary. I was supplied with furnishings for the dorm room, including a wastebasket.
The Clothes Closet was my salvation. I needed knee socks, shoes, sweaters, jackets, etc. As winter approached, I found a winter coat, boots, hats, and gloves in order to survive the New England winter. For four years all my clothing came from the Clothes Closet.
I also knew that in an emergency I could receive financial assistance from Students' Aid. My family in Malaysia had no means to help me. This gave me peace of mind to concentrate on my studies, develop long-lasting friendships, and imbibe the whole Wellesley experience.
Paying it forward: I am sure Wellesley Students' Aid Society is just as relevant today as it was for me more than 50 years ago. This is the reason that I have established a small scholarship fund at Wellesley Students' Aid. I am just paying it forward.
As a faculty member at the University of Cincinnati College of Medicine I started a mentoring program between medical students and Cincinnati inner-city kids. The program is still going strong after 20 years.
Photos: Above - Wan Lim as a first-year student in front of Pomeroy Hall.  Below - Dr. Wan Lim (far right) in 2018 at her 50th reunion with life-long friends from Wellesley.